ADCostly QuickStart Guide
Before You Start AdCostly
You should have basic knowledge of advertising, including the concept of CPC, CPM, CTR, CPA, etc.
Guide For Beginners
1.Access Cost Secrets of Facebook AUDIENCE Interests
5 languages supported, English in default.
Type in any keyword related to your market, and see how it performs. AdCostly offers insights into the audience volume (by countries), CPM & CPC (trend), and KD.
There are 2 types of results. "Related Interests" are those that include your keyword in the text. And "Suggestions" are interests that have a similar or overlapped market with your keywords.
KD is short for "Keyword Difficulty". We calculate the AdCostly KD score by taking a weighted average of the rank of the advertiser to use this Interest, audience size rank, CPC rank, and CPM rank on a logarithmic scale from 0 to 100. Based on this methodology, the higher a keyword scores, the harder for you to campaign with other competitors on this interest. See more introduction to KD at https://adcostly.com/blog/keyword-difficulty
2.Get CPC/CPM/CTR Data with Advanced Filters
The cost differs from time in different categories and countries. So it's a must to take full advantage of the filters provided to obtain accurate reports.
Choose a certain country or area, IOS/Android, and a vertical category, then set the period you want to have a view, what follows is the overview of this period's average CPM, CPC, and CTR, along with the period-on-period ROCs.
We segment the audience by Gender, Age, Geography, and report their cost in intuitive graphs.
The followings tell how the average CPM/CPC/CTR differ and trend in different gender groups and age groups of the set period.
The indicators may vary in different countries/areas, click the colored parts to have a check, or see the rankings chart.
When it comes to placement, we offer Placements Ranking for you to compare among placements of publishers. All values are the average of your chosen period.
3.Acquire Confidential CPA of the Market
CPA module is similar to CPC, the characteristic of which is the possibility to compare the cost to different actions.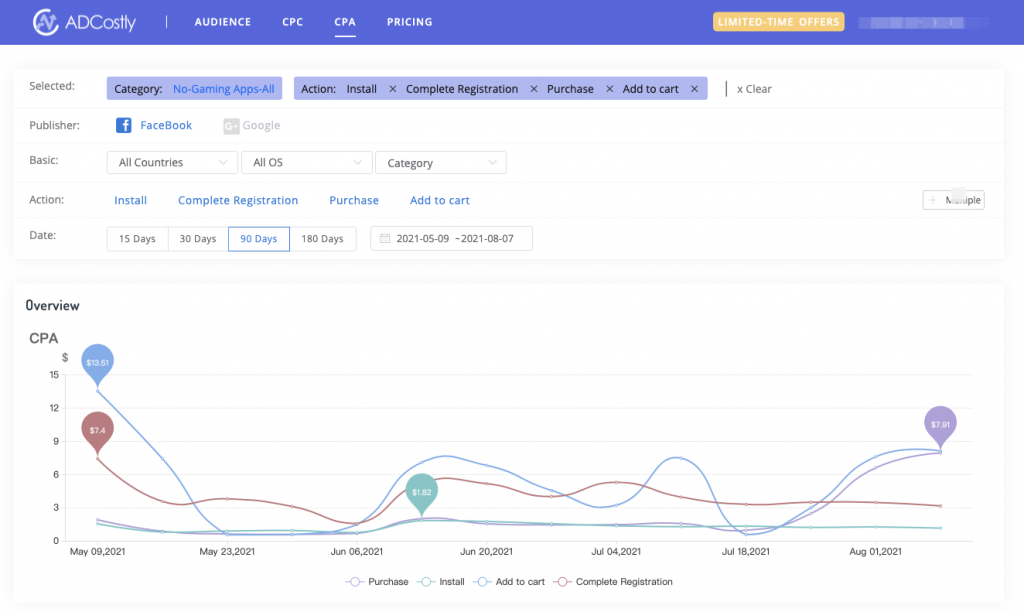 As a concise and functional website, AdCostly aims to save your time in unlocking the cost secret. You'll fall in love with it after several simple practices. Get started now!
Questions / Feedback / Bugs
If you have any questions about AdCostly, feel free to contact us via service@edm.adcostly.com.