Best Facebook Advertising Service Tools–ADCostly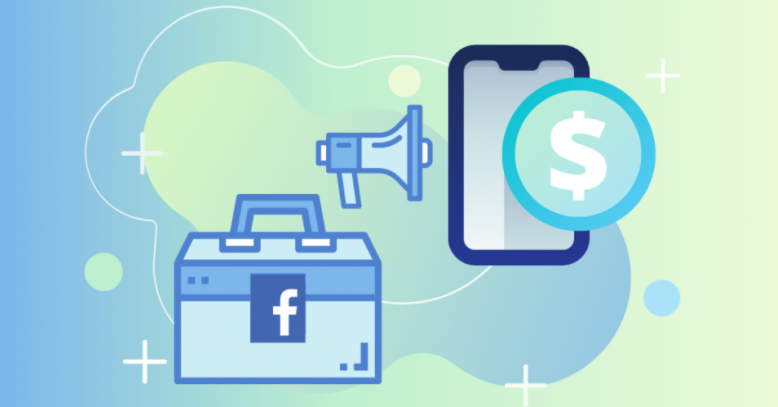 Facebook advertising is considered an efficient way of promoting business or products online. Yet, many businesses make the mistake of running Facebook ads on mere guesswork.
Undoubtedly, the result can be frustrating - loss of time, money, and effort.
Results like this scare a lot of you off but I guess you are wrong.
Maybe the best tool to optimize your Facebook ads is not known or you are yet to make use of it effectively.
Interestingly, the Facebook advertising service isn't as complicated as you think. Marketers are still using this social media platform to generate authorized leads in abundance.
What's the secret weapon?
Facebook ad management software is the answer to this!
This software simplifies every step of your Facebook advertising services.
Probably, you are wondering if Facebook ad tools are even worth investing in, here are some statistics that validate them to be reliable and high-converting:
Facebook has 2.8 billion monthly active users equivalent to a 12% increase in 2021.
Facebook ads are displayed in the news feed of the right users - thanks to targeting options.
74% of Facebook users visit the platform daily.
Furthermore, Facebook has changed its algorithm several times and is still evolving on the same. Moreover, this change makes publicity and advertisement sometimes tedious jobs on Facebook for businesses. Yet, we can still consider Facebook advertising as one of the most productive ways of promoting one's business or product online today.
Further, with a large number of diverse users constantly searching for stuff online and sharing the things they like, using good Facebook ad services tools is key to gathering leads. In addition, this will help in turning as many users into your next clients or collaborators.
With all these compelling reasons for trying out Facebook ads, I'm sure your only question right away is - How can I start?
I have put together some powerful Facebook ad tools to make your next ad campaign a roaring success.
These Facebook advertising tools include:
Facebook Ads Manager
ADCostly ( Advertising cost tool)
BigSpy (Advertising spy tool)
AdTargeting ( advertising audience analyzing tool)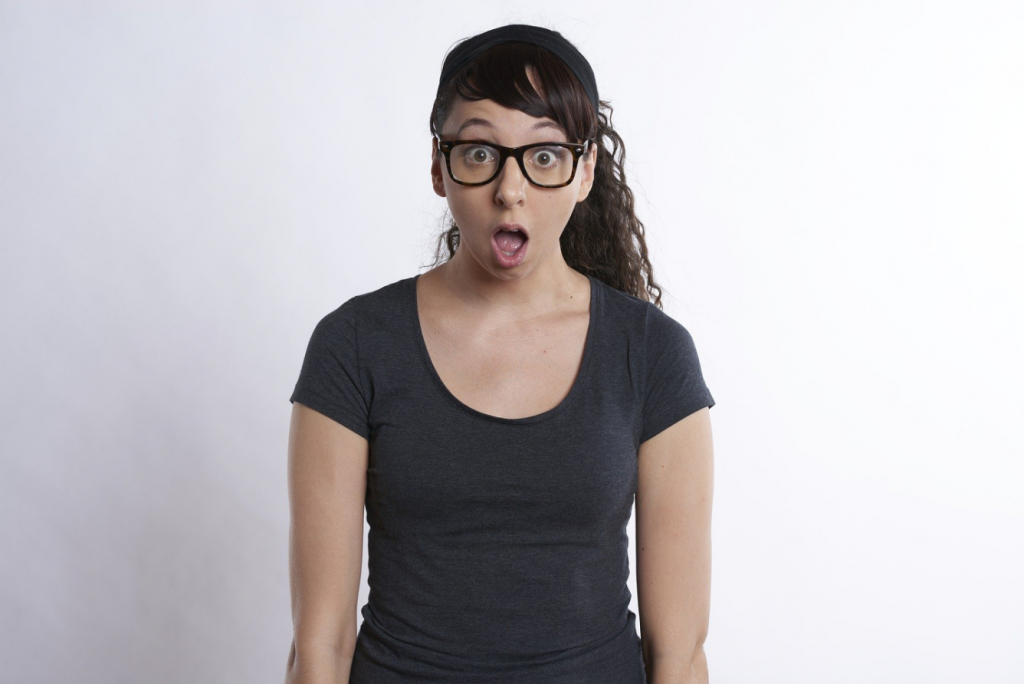 Sit back and let's examine these intriguing Facebook Ad tools.
6 Best Facebook Advertising Service Tool
1. Facebook Ads Manager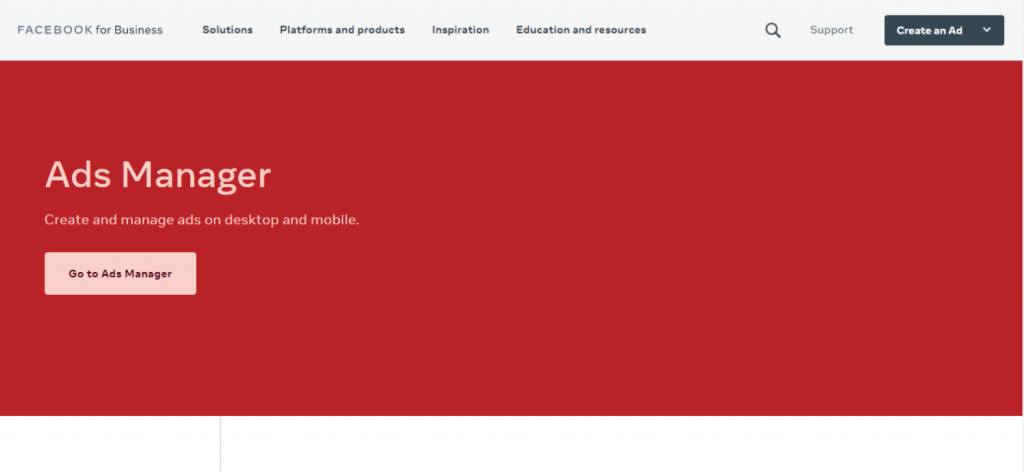 Facebook Ads Manager is a tool that allows you to create and manage your Facebook ads. It is very versatile in its operations and allows you to create, view, make changes on ads, track their performance, manage ad budgets, and schedules.
However, you must have an understanding of the Ads Manager's pros and cons - this is essential to help you offer the best Facebook advertising service and make the most out of your Facebook advertising dollars.
With your Facebook ads manager you can:
Create converting ad campaigns: You can visually design your ads using an easy-to-follow process. Again. you can choose your marketing objective, the class of individuals you want to reach, where you want your ad to appear, and the ads formats to showcase your ads.
Manage multiple ads at once: By using Facebook Ads Manager, you can edit settings for multiple ads at once such as audience, budget, placements, and duplicate ads. Click here for more information about managing ads.
Track your ads performance: Facebook ads manager account-level view allows you to see how all your campaigns are doing at a glance. Also, it allows you to examine the breakdown which shows what metrics matter most to you.
Furthermore, you can design reports or schedule them to give you a comprehensive view. The essence of tracking your Facebook ads is to measure your conversion rate based on your Facebook ads.
Although Facebook ads manager is a basic tool in the Facebook marketing business, yet, it is also the leading tool used by more single users, professional companies, and marketing agencies all over the world.
Nevertheless, it is expedient that you know how to run your ads efficiently. Interestingly, there are five steps to getting started with Facebook Ads:
Create a Facebook page or use one that is already existing.
Provide information on what you want to promote.
Choose the appropriate audience for your ad.
Set your budget.
Track your results.
Facebook has made it easy, following the steps above will help you hit your mark.
You can try this tool today, and you will be glad you did!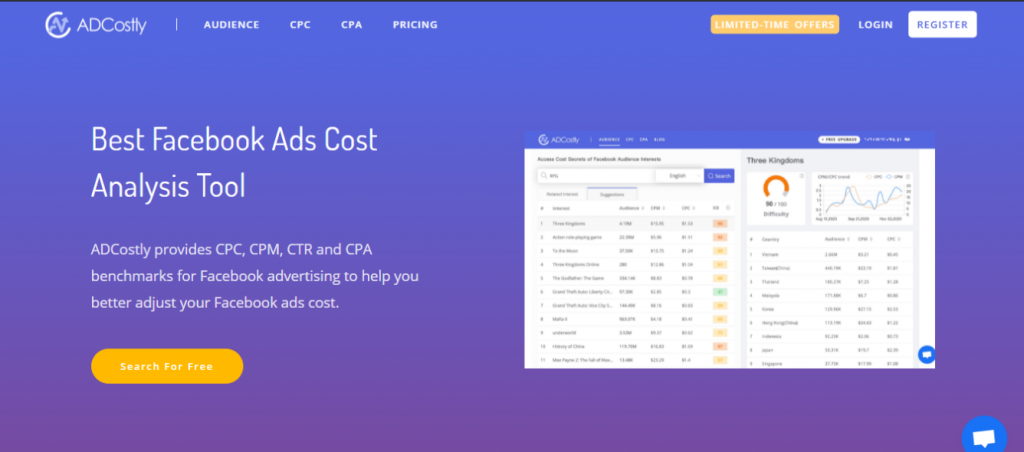 Emphatically, paying for clicks to your website could be a risk especially when you're a novice.
Besides, you should ask yourself - will it pay off?
The advertising cost calculator is what you need before jumping into an online advertising campaign of any sought. Unfortunately, many business owners and companies struggle with it.
In particular, understanding how to calculate your advertising cost will determine how much you need to spend on a particular campaign and the profit that will come with those Ads.
An advertising cost calculator is a simple tool that helps both individuals and businesses to calculate their actual advertising costs for a certain fiscal year. In addition, this tool helps you to determine the amount spent or the estimated capital for subsequent advertising campaigns.
Further, this tool is also capable of making projections on the possible ROI which is considered as the profit from those advertising campaigns.
In addition, when calculating advertising cost, the following factors must be considered:
The projected budget for Advertising.
The expected CPC and CPM costs such as $2 per CPC and $5 per CPM.
The targeted conversion rate of the advertising campaign.
The average product sale price and the worth of each customer.
The conversion rate - what percentage of those customers will be converted?
The final results of these projections will be summarized into the number of clicks, the number of leads, the actual cost of CPC and CPM, the click-through rates (CTRs), etc.
Undoubtedly, ADcostly will help you adjust your ad cost for better results. Besides, this tool will help a business systematically enhance its advertising strategy.
3. Bigspy (Advertising spy tool)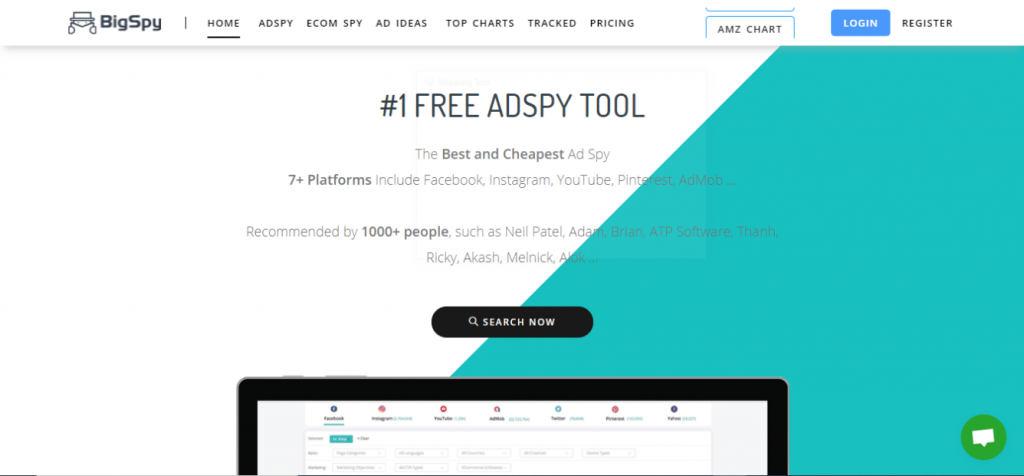 As a digital marketer, spy tools should be on your top list of tools required to take your campaigns to the next level.
Emphatically, one of the ways to know how your brand is resonating with the audience is through social media spy. Specifically, taking a close study and examining your competitors can be an added advantage to cut short your research. This is the major reason why social media spy tools are very much significant.
Interestingly, social media ads' spy tools aren't relatively threatening. It is safe to conveniently call it "Competitive Analysis".
So, naturally, you'll observe you are thinking - what is Bigspy? What is special about this tool?
Bigspy is a powerful Facebook and social media spy tool. Besides, Bigspy boasts the Largest Database of Ads - this number is nestled in the neighborhood of 74.2 million Ads from 12.7 million advertisers across 198 countries.
Nevertheless, AdSpy helps you to spy and copy your competitors' Ad campaigns, landing pages, etc.
Furthermore, this tool has some special features such as;
Enhanced basic search and filtering
Search Through Comments
Accurate Demographics
By Affiliate For Affiliates
Big Data
Rapid Interface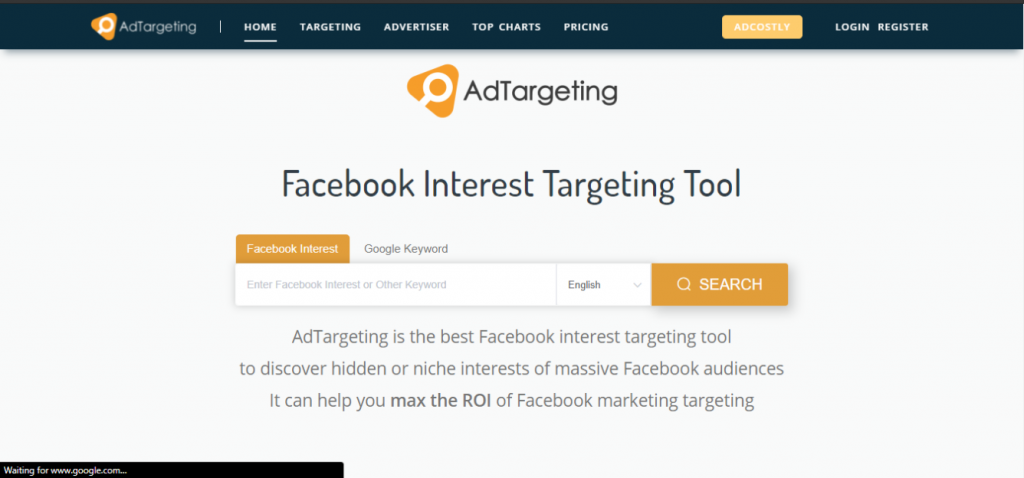 AdTargeting tool is the best Facebook interest targeting tool. This tool helps to discover hidden or niche interests of massive Facebook audiences. Again, it can help you increase the ROI of Facebook marketing targeting.
In particular, the essence of AdTargeting is to make available a large number of keywords to reveal hidden interests and Google. The keywords that have been generated play a major role in precisely targeting the audience and stealing your competitors' traffic!
Furthermore, this tool helps you get a list of more than a thousand Facebook interests or a list of Google keywords by doing a keyword search. Besides, this tool helps you to obtain a report on interest analytics and a report on Google keyword analysis. Also, you may obtain a Facebook advertiser analysis to spy on your competitors' Facebook advertisements and steal their traffic.
This tool helps you to compare the differences in the audience between two interests or the differences in two keywords to get the one that best matches the product.
Get to know the new strategies your competitors are implementing. Interestingly, AdTargeting is here to help you out.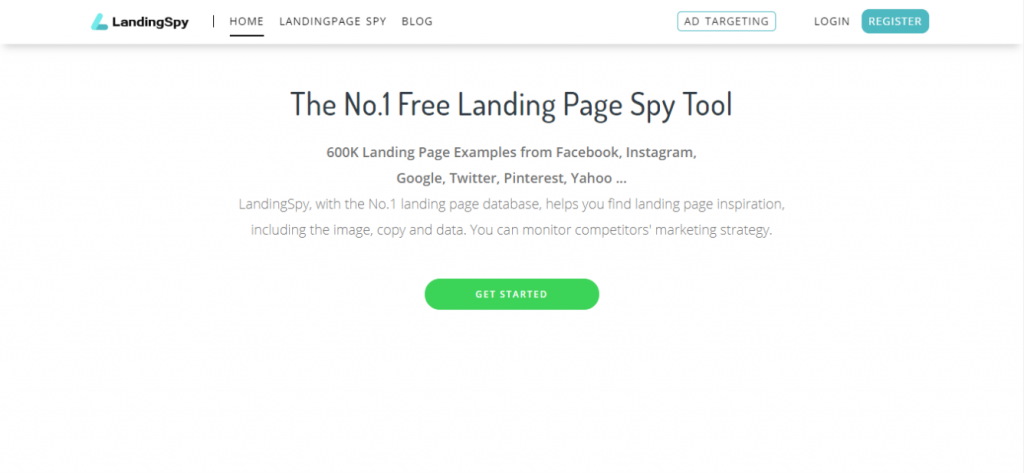 A landing page is such a deal-breaker when it comes to digital campaigns. It is a major determinant of your success.
Furthermore, the quality of your landing page determines the interests of visitors. In particular, it is regarded as a decision point. Also, it plays a key role in website conversion.
The goal is not just having a conversion, rather leaving your visitors with a top-notch experience with a user-friendly website. Interestingly, if a user can find his or her way around your page and checkout without a second of difficulty, that means you are most likely to have more conversions for you.
Amazingly, the No. 1 landing page database is LandingSpy. This tool will assist you to come up with ideas for landing pages, including images, content, and data. Besides, it helps to keep track of your rivals' marketing strategies.
Furthermore, you can use LandingSpy to locate a landing page that has been validated and has been advertised for a long time. Also, you can look at how to make a high-converting landing page - this will assist you in effectively increasing ROI.
Alongside are some key performance metrics you should pay attention to such as:
Time on page
Bounce rate
Conversion rate
Number of visits
Most importantly, you should test as many landing pages as you can to ensure there are no flops. Also, make use of different CTAs, forms, rich media such as images and video, and other on-page items. Implementing these features will check the impact of changes on your landing page conversion rate.
In addition, you can test different landing pages designs to see which one resonates with your website visitors. Remember, proper analysis is key to creating effective landing pages.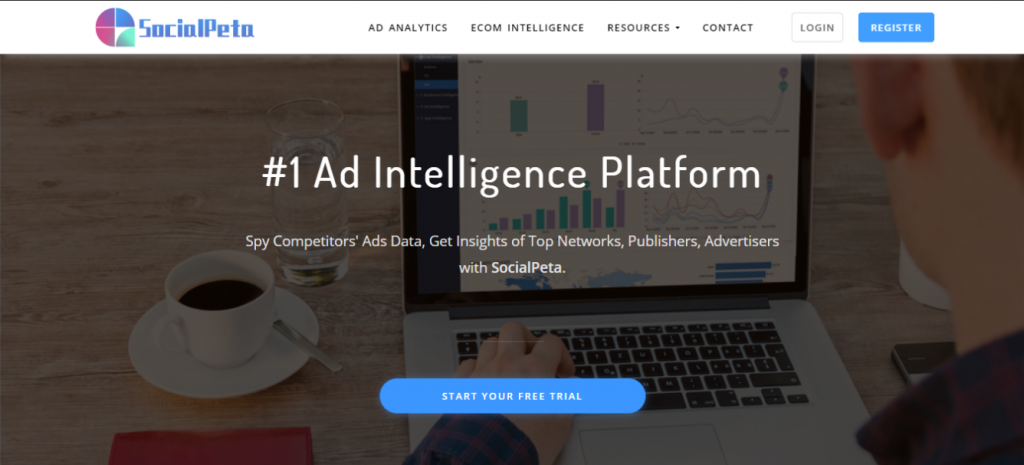 Socialpeta is the world's leading campaign creative spy and app analytics platform. This app is committed to offering top ad creatives and marketing strategies for both advertisers and publishers. In addition, this tool serves as an essential Ad and Marketing Intelligence Platform,
In particular, SocialPeta concentrates on:
Ad Intelligence – mobile ad analytics
Marketing Intelligence
App Intelligence and user acquisition
Ad Cost intelligence
Game Intelligence
Audience Intelligence
Follow popular advertising strategies to drive business growth and maximize revenue. Listed below are the key features of the Socialpeta app:
Massive real-time creatively solving difficulties
Powerful search covering more than 68 channels in over 45 countries and diverse materials to improve work efficiency
Powerful in-depth analysis to solve problems
Provides detailed advertising and market analytics for each company
Most importantly. this platform delivers data, material, text, network, and other multi-dimensional analyses to more than 5 million global advertisers. You can increase your income and boost business growth by maximizing this tool.
Conclusion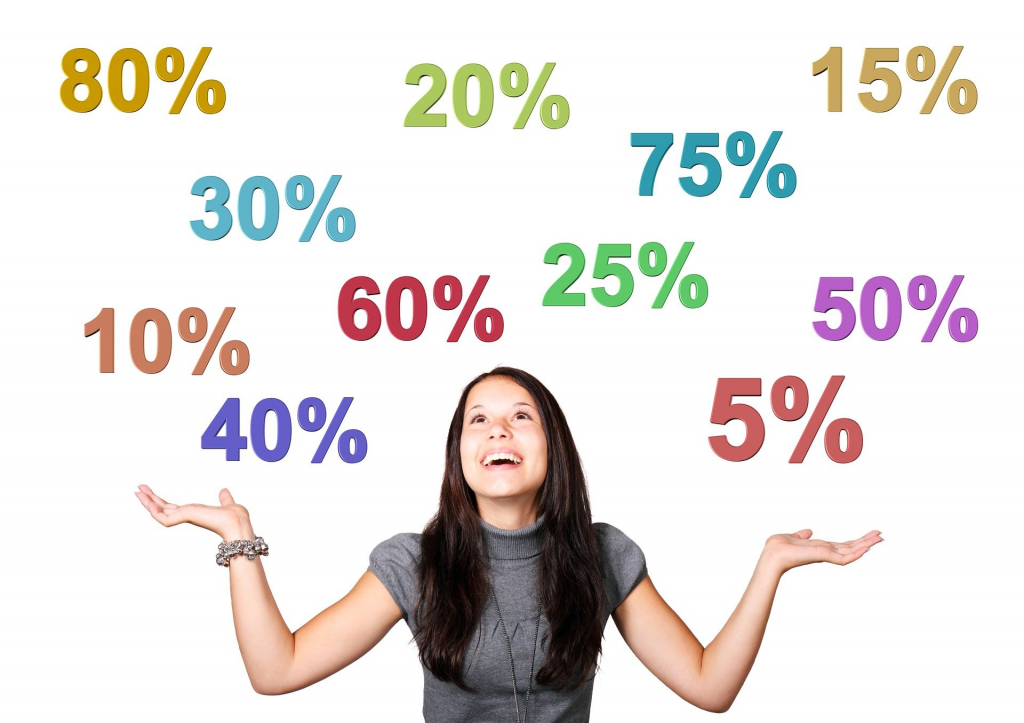 Based on facts, more than 1 billion people visit Facebook every day. You can either ignore this audience or do whatever it takes to turn some of these people into paying customers.
Once you create a profitable Facebook advertising campaign, you can scale it accordingly. Conducting campaigns with a reliable, affordable, and easy-to-use advertisement tool is necessary to entice customers who have hundreds of options to choose from.
Undoubtedly, you have at your fingertips the best Facebook advertising service tools that will skyrocket your net income through high-converting ads.
However, it is important to streamline your organic activities. This calls for a tool like SocialPilot. This tool is capable of managing all integral marketing ventures.
Start your free trial to get one step closer to being a pro-marketer.
Moreover, are you in search of trending and profitable products to sell? Do you need help in evaluating your competitors? Are you in search of how to examine your market?
This tool will help you figure out the low competition and profitable products that will drive massive sales. Besides, this tool makes in-depth market research to figure out details of your competitors in a moment.
I'll love to know which of the Facebook advertising service tools you'd be using first to step up your business. Thumbs up!