Yoga Ad | 5 Best Marketing Tips For Yoga Facebook Ads
Are you looking for marketing techniques for yoga? Yoga is becoming more and more popular now! More and more men and the elderly begin to practice yoga, starting from 4 million men in 2012 and 4 million elderly people over 55 years old, reaching 10 million and 14 million respectively. However, most yoga studios are doing the wrong Facebook ads!
Add posts on Facebook page, unreasonable marketing ways are actually donating to Facebook
Using basic positioning tools and settings on Facebook to locate audience information, this lack of advanced positioning is undoubtedly a waste of money!
If this sounds like what you are currently doing, don't worry! We will guide you through all the steps to make you spend the least 💰 to do the best advertising marketing on Facebook!
1. Content marketing is king
If you have an eye for discovery, you will find that successful advertising cases always have the following three characteristics:
Celebrity effect
Life inspiration (or life confusion, user pain points)
Appropriate pictures, video introduction
Celebrity effect is currently a very significant marketing method, such as Lady Gaga support Tiffany, Selena Gomez support Coach. Using the celebrity effect will bring a lot of traffic. Yoga is currently a very popular sport, and looking for the right spokesperson to advertise will bring great benefits.
Life inspiration or user pain point, the addition of this aspect can shorten the distance with the user. And understand what the user thinks is the first step of our product sales. Using AdLibrary Helper we found "Noah Mazé Yoga" advertising case, we can see that this advertising entry point is the user's life anxiety. I believe that in the current fast-paced life, many people will feel anxious. This is the pain point of the user. The user will think in the face of this common phenomenon. How should I relieve stress, so the advertisement begins to introduce the effect of yoga to relieve stress , successfully led to yoga classes. In response to user pain points, products are easier for users to accept.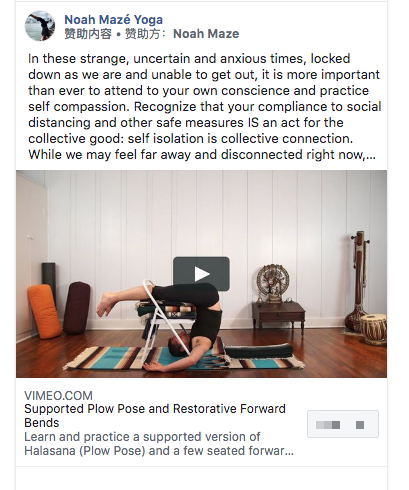 We also take the advertisement of "Noah Mazé Yoga" as example. You can see a video inserted below. The video content mainly introduces how some yoga moves can relieve life stress and anxiety. This part also corresponds to the user's pain points. At the same time, it is also a supplement to the user's pain point, which is more attractive to users to purchase yoga courses.
2. Build an incredible yoga landing page
Creating a beautiful website landing page is important. An excellent yoga website must have the following 4 characteristics:
Simple and clear navigation bar
Use Form
Images convey emotion
Recommendation related information
LandingSpy helps us find the best landing page for a website. By searching for Yoga we can see a large number of landing page cases. Taking Fitnessfyne's landing page as an example, we can see that the landing page contains all the above content: a simple navigation bar, a table presenting user feedback, a large number of yoga action diagrams to convey the beauty of yoga, and yoga courses recommend.
3. Find your Niche
61% started yoga to increase flexibility, 56% started to relieve stress, and 49% started to improve their health.
First of all, we think about the general situation of our users. We use AdTargeting to target users. We enter Yoga in the search box, we can see the basic situation of the user.
The basic situation of yoga user targeting is as follows:
We searched for the user targeting, then we will consider the selection of interests. Interest is an item that needs to be selected when advertising on Facebook. ADCostly provides cost analysis for these interests. So we can use ADCostly to query interest related to yoga, and record the popularity and cost of the interests.
After inquiries, we have compiled the interest suitable for yoga as follows:
4. Email marketing
Email marketing is one of the fastest ways to obtain users. When we find the mailbox of the target audience, the emails we send will greatly help them solve their current problems. There are two aspects of email marketing that need attention: Set up 5 types of automatic email content for different audiences to ensure automatic marketing without human operation. On the other hand, there are a lot of taboos in the content of emails that need attention. If you can't grasp it well, it will be a very bad marketing activity.
Ordinary marketing email;
Welcome email during user registration;
Welcome return emails for users who have not logged in to the product for 1 week;
User feedback emails that the user has not used for a month;
Marketing email for the new version of the product
5 points to note about the content of the email:
Maintain a personal style
Clear email subject
Explain clearly
Including CTA
Contains reader name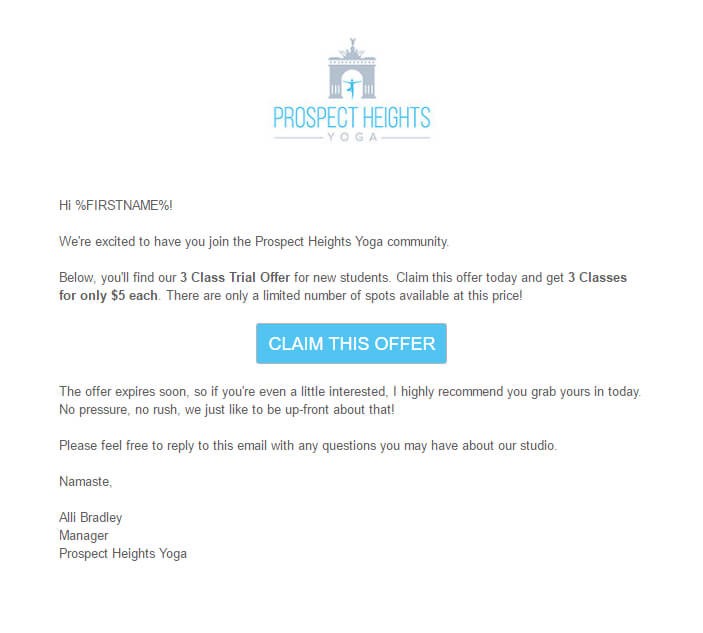 5. Stay active on social media
It is a very good idea to create an account on social media and record videos of yoga lessons. You are worth a try. Many yoga studios have set up official accounts on Facebook, Twitter and YouTube, and have updated their content in a timely manner, which has enabled them to gain a large number of fans.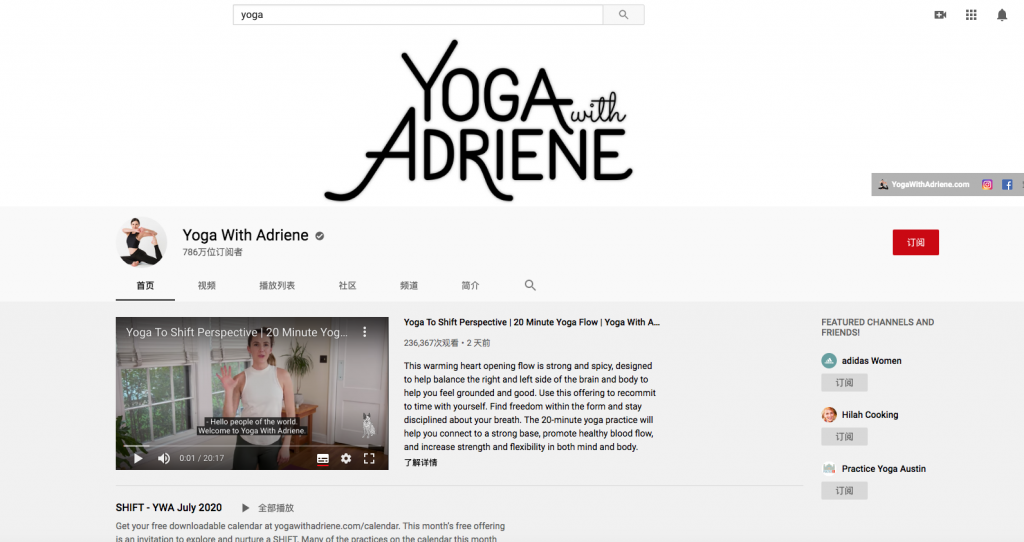 Searching for yoga on YouTube, we can find "Yoga With Adriene", which is an account with 7.86 million. It updates content once or twice a week, and the video views are very large. You must not be stingy with your yoga action courses, because users are not lacking in yoga knowledge, they lack the consciousness of exercising more, and show more useful yoga knowledge to users, they can come to your course. This will be a very good experience, try it.
Summary
Quickly give up your wrong advertising marketing method, after completing all the steps mentioned above, users will increase dozens of times. Yoga has many opportunities to make money, I hope you will succeed as soon as possible!