How To Control Marketing Cost On Facebook?
The information in this article can help you understand in advance the average cost of delivery on Facebook, including Instagram, Facebook Audience Network, and Message. Through efficient and accurate advertising, guide you to control marketing costs on Facebook.
Directory structure: This Article mainly introduces the following aspects, which will guide you how to control your marketing costs on Facebook.
Analysis of 5 factors that affect Facebook advertiser marketing cost.
How to choose a precise target audience.
How to find the best advertising ideas.
Monitor average cost changes on Facebook.
Bidding strategy.
Choose the best performing ad group.
Authoritative data source in the article
Facebook audience interest word data, from Adtargeting.
Facebook's average cost data, such as CPC, CPM, CPA advertising cost analysis data comes from ADCostly.
Facebook advertising creative data comes from Bigspy.
Statistics on the average click-through rate of various industries come from WordStream.com
How to control marketing costs on Facebook? Please refer to the following article content:
5 factors affecting Facebook advertiser marketing cost
In the process of advertising, we all know that there are many factors that affect the cost of advertising, but it can be roughly divided into the following five factors. Do these five factors well. I believe that you will be very smooth when advertising.
Accurate advertising audience users
High-quality ad content with high CTR or conversion rate
Understand the changes in advertising costs in various regions in advance
Reasonable advertising bid
A/B test to find the best advertising
Ok, do you now understand how to control marketing costs on Facebook? Let me start now and study this article together.
Retarget advertising audience
You may say that when advertising, On Facebook ,you can use tags to find accurate advertising audiences. indeed! Facebook has such a function, but I can tell you that such users are still not accurate enough. Therefore, you need to take the time to prepare a detailed advertising audience interest keyword for your advertising content, you have two ways to conduct interest analysis:
Method 1: Search the core words directly in the search box on Facebook. Facebook will intelligently associate many related long-tail words, for example: I search for "music" and recommend many related interest words.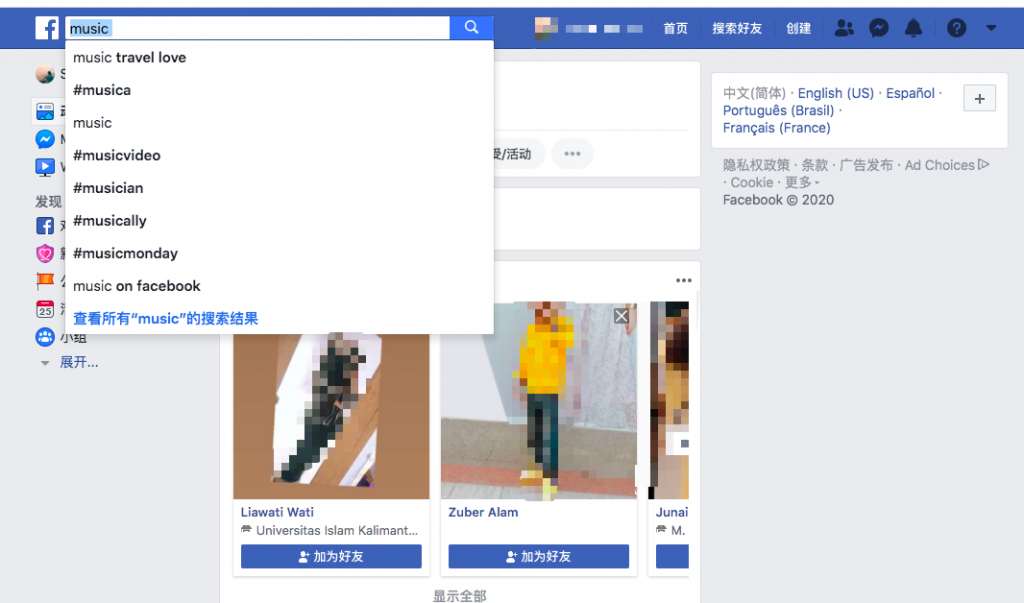 However, this method is very limited because the number of results officially recommended by Facebook is very limited. Therefore, I recommend that you use the second method.
Method 2: Use a third-party interest word expansion tool. Here I recommend everyone to use the Adtargeting tool. For example, I also expand the "music" interest word on it, and it will recommend many related interest words.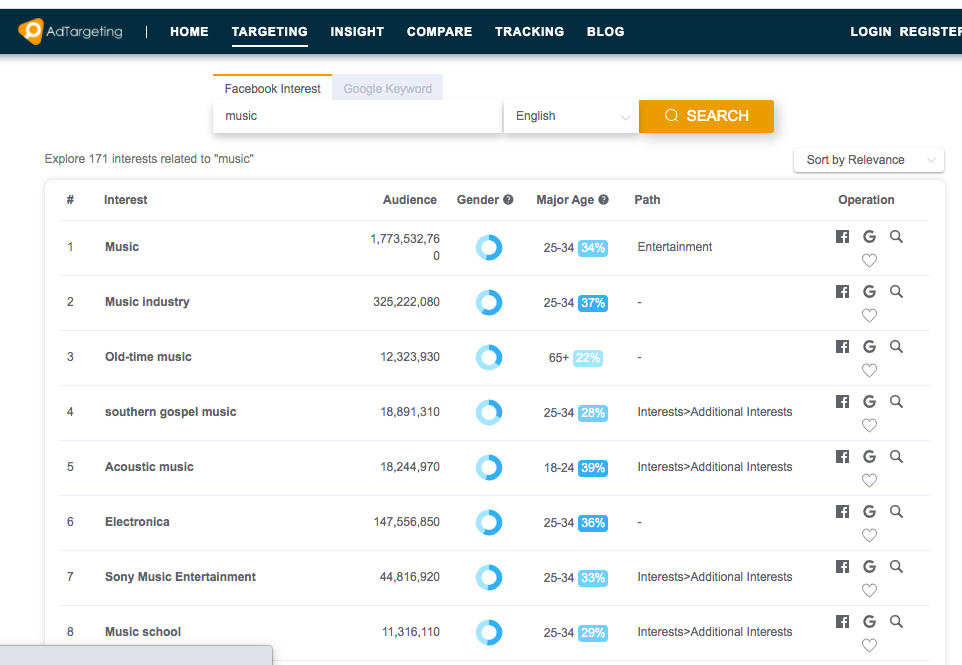 When you expand many long-tail words through core intersts keywords, what you need to do is analyze the audience corresponding to each interest word, analyze the overlap with your user group, remove the interest words with low overlap, and leave the overlap High interest words.
After some of the above analysis, you will get a list of interest words about your advertising audience. When you are advertising, select the "Custom Audience" feature officially recommended by Facebook to place your ads.
Create quality advertising content
Advertisement is the most direct contact medium with your users. If you can't attract your users, then users will quickly cross or close the ads. This is a very failed advertisement recommendation. Of course, the advertising costs you spend There will also be no value.
According to data from WordStream.com, the average click-through rate (CTR) of Facebook ads is 0.90%, but if your click-through rate is below this level, don't be frustrated.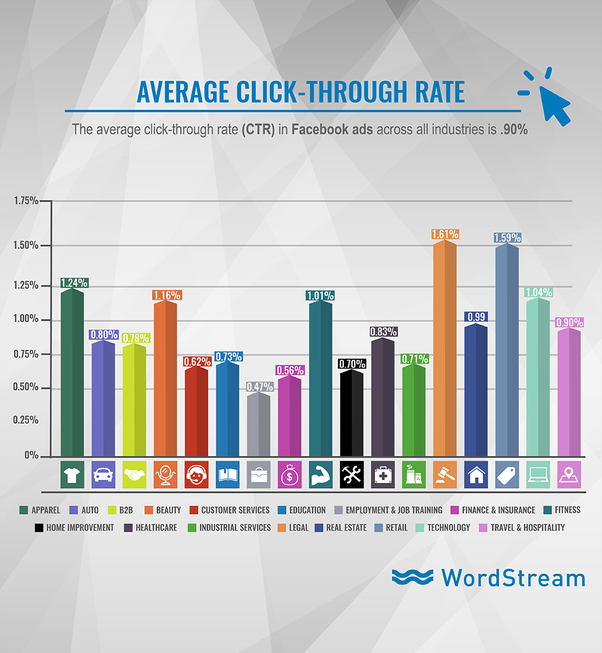 Therefore, whether the advertising content is attractive enough is particularly important. High-quality advertising content includes two aspects: on the one hand, creative creatives, which can be pictures or videos or html pages; on the other hand, ad text, which summarizes the value of your products in one sentence.
Usually, we will think through the brain to get the result ourselves, but this efficiency is very low, and your source of thinking will be exhausted. Therefore, we often use ad spy tools, so that we can not only view the excellent ads of competitors, but also help us open our minds. It can tell you what users like recently.
For example, I looked at the creative ideas with the largest number of likes on bigspy, the number of likes reached 11.3M, and the comments reached 336.7k. Ad text is: "message: Check out the amazing China and Chinese people. Join the conversation! title: China Daily body: "Are you surprised?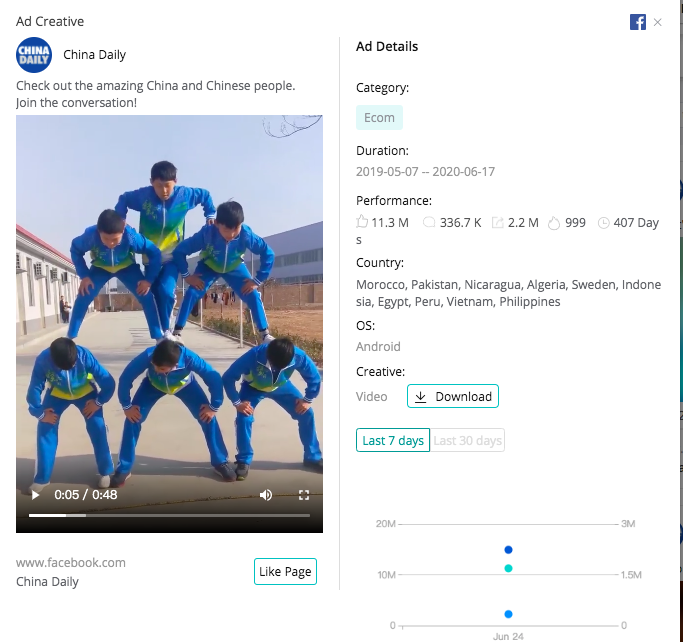 Using good tools can make our work very efficient. Ad spy tools like Bigspy can help us understand what type of advertising works best on the market and understand what your users like.
Know the marketing cost of different regions in advance
I have to say that this aspect is so important. Sometimes it can help you reduce losses. Imagine: if you plan to choose an area that has never been advertised, no one can tell you the average advertising cost there. I think you only have Prepared a budget to try. This process will make you very painful.
Today is the era of big data. There are a lot of advertisers who put ads on Facebook all over the world. They will choose different regions to serve. So can their cost of delivery be your reference for delivery? Practice has proved that this is very valuable. In the case of a large amount of data, the average advertising cost change trend in a certain area can help you analyze the more appropriate time to bid.
Of course, it is very difficult to monitor the changes in the cost of advertising on Facebook, but fortunately, ADCostly can do it. Currently, it mainly monitors the advertising on Facebook (including Instagram, Facebook Audience Network, Message) platform cost.
For example, I checked the average CPA cost of the last 90 days in the United States on Instagram. The installation cost of the game app can reach a maximum of $2.51. The overall fluctuation is relatively obvious. If you are choosing to place game ads in the United States, I suggest that you Time to choose a bid.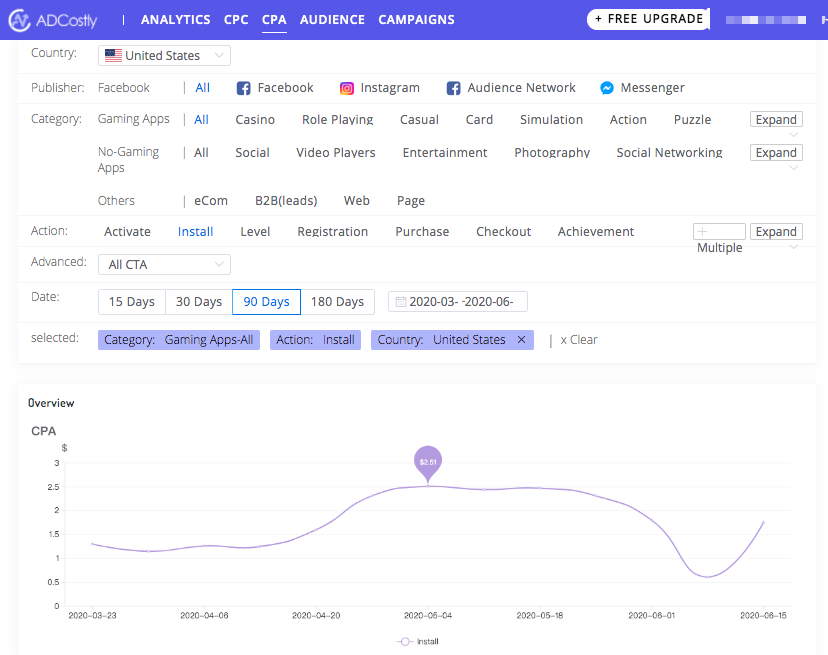 In addition, it is worth noting that female advertising costs are significantly higher than male users. If your user target is female users, then your budget needs to be well prepared.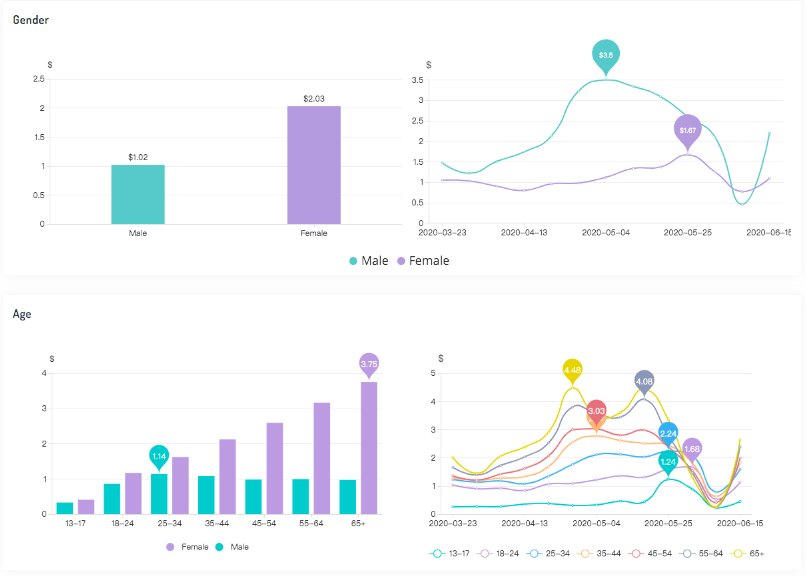 Knowing in advance the changes in advertising costs in the regions where you plan to advertise will allow you to save those unnecessary budgets.
Facebook bidding affects advertising costs. Unfortunately, the ad slot does not reach the highest bidder, but is displayed based on the value of the ad. What is this value? three things:
Advertiser bid-Your currency bid.
Advertising quality and relevance-This is based on the feedback from Facebook users and the relevance between Facebook and your ad.
Estimated Action Rate-Calculated by Facebook's likelihood that someone will accomplish your chosen goal.
There are two ways to bid for your ads: automatic and manual.

With automatic bidding, Facebook can set bids for you to get the most actions at the best price. With manual bidding, you can decide on results that are worthwhile for you. Facebook always encourages you to make a valuable bid for this behavior. And focus on ROI, not the lowest cost. The higher the bid, the more access you have to the most important people.
A/B tests the best performing ads
A/B testing allows you to know which words, phrases, images, videos, recommended words and other elements are most effective. Even the simplest will affect the conversion rate. Therefore, you can create multiple sets of high-quality advertising content, you can compare and test 6 aspects:
Advertising headline and ad text
Types of advertisements, pictures, animated gifs, videos
Some content elements in the advertising content
CTA copy and size
Product key introduction
Product landing page
Place several sets of ads within the prescribed time, do a good job of analyzing the results of the ads, and compare and select the best performing ads.
There is no very specific way to help you reduce the marketing costs on Facebook, of course, it is not that you are not proficient, but because advertising is a very comprehensive job, there are many steps that need to be considered and practiced, as long as one of the tasks is not Do it well, then the impact will be the increase in marketing costs.
If you have any questions, you can contact us online, I will guide you how to reduce marketing costs on Facebook.