Save Advertising Budget 50%:How to spend your Facebook ad cost reasonably?
Facebook is a great social networking platform and currently has 2 billion users worldwide. Facebook has therefore been the most profitable company in the world. It has become the first choice for many advertisers to place ads. However, for many advertisers with limited advertising budgets: controlling advertising costs and comprehensively enhancing the value and effectiveness of advertising is a major problem that plagues them.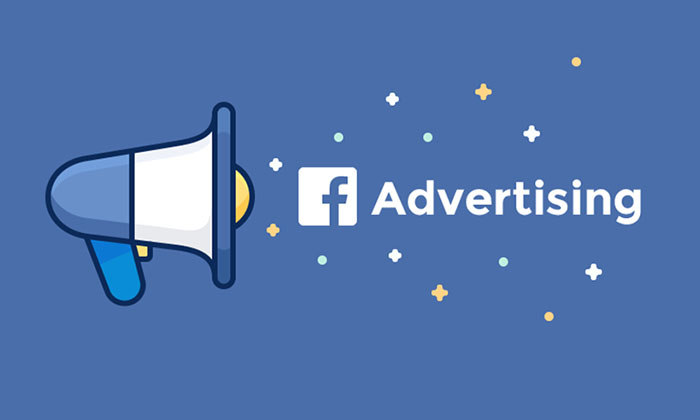 Save Advertising Budget 50%, to improve advertising efficiency, you need to weigh and analyze many variables, in this article, I will introduce:
How to find an accurate advertising audience on Facebook?
Create high ROI ads
Reasonable bidding strategy
Monitor Facebook's cost changes
A/B test to determine the best ad group
Ok, without wasting time, let's start this learning journey directly!
Find Accurate Advertising Audiences On Facebook
Finding an accurate advertising audience can increase the conversion rate of your ads and make your advertising spend valuable every time. Here is a way to help you find an accurate Facebook advertising audience.
Method: Use Facebook Audience Interest Analytics Tool
On Facebook, the content of interest of different users has the same place, for example, use the "football" keyword to search on Facebook, the search results are all content that is interesting to football, but Facebook official search for a keyword, it will recommend displaying up to 25 long-tail keywords for you. Of course, this number may be very small for you.
There is a tool to help you develop a lot of interest keywords. For example, with the help of interest target expansion tools like Adtargeting, you can find precise interest words from e-commerce, entertainment, and other industries. Set up on the Facebook advertising platform. Well, these interest words match the accurate users, and Facebook will display your ads to these users based on the interest words.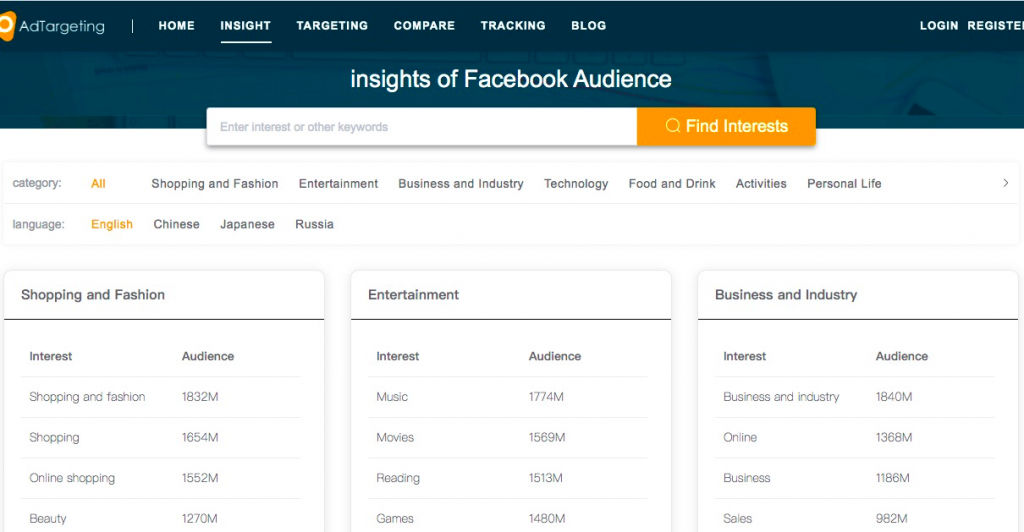 Advertising is a medium that directly contacts your audience. Imagine: If your customers like your advertising content very much, they will directly go to the purchase page and buy your products. This will be a perfect advertising experience! However, many customers give up when they choose to buy and leave, your advertising costs are wasted this time, is it very regrettable? In my opinion, it will be affected by three factors, solve three problems, your advertising will be successful.
If you rely entirely on the human brain to think about the creativity of advertisements, the copywriting of advertisements, and the creativity of landing pages, this will be a time-consuming and laborious thing. Since my friend recommended BigSpy to you, this ad monitoring tool Obviously, work efficiency has improved a lot.
I looked for other product advertisements of the same type as my products on the top, borrowed the best-performing advertisements, and developed new advertising ideas based on the creative ideas of the competing products. As follows, from BigSpy, you can view the ads that are already running on large social platforms such as Facebook, Twitter, and Instagram.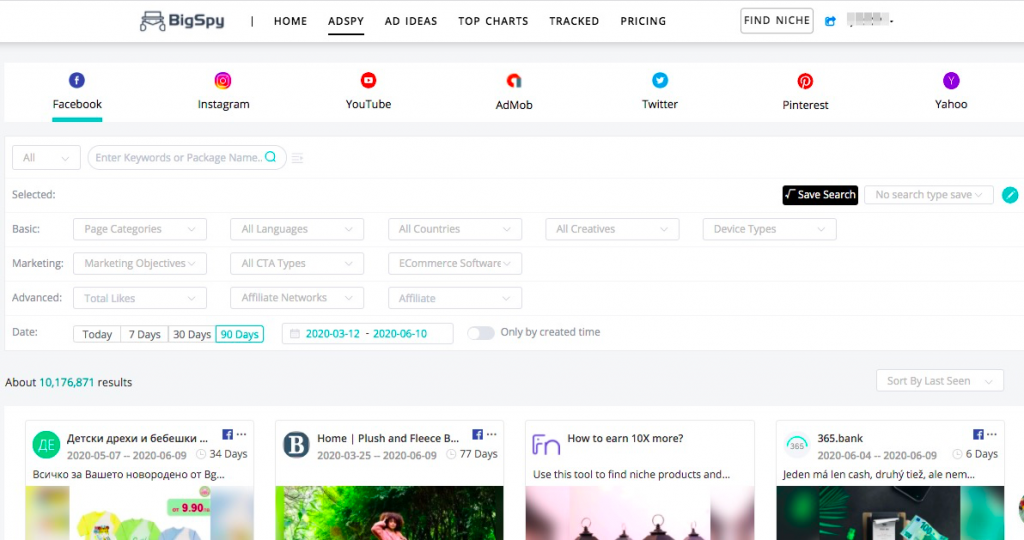 For example, I look at a brand's image ad, and its ad interaction data on Facebook is great. Likes: 165k, Comments: 23.3K, Repost: 35.9K, Popularity: 61, it only took 4 days.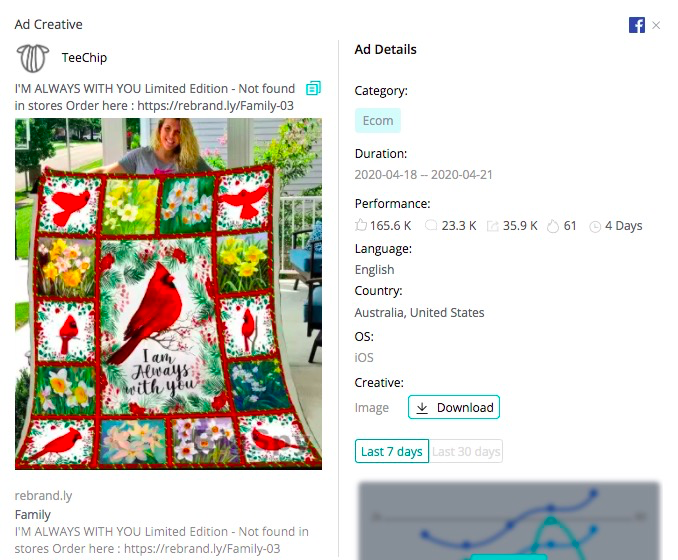 Reasonable Bid On Facebook
Advertising on Facebook is more like a sale. There will be many factors that affect your results. Therefore, there are always uncontrollable changes in your ads. Facebook officially has a smart bidding function that can help you adjust bids in real-time.
When you create a Facebook ad group, you can adjust your bids in the "Pricing and Bidding" section, because if you don't, Facebook will automatically bid based on your selected schedule and your advertising budget.
During the launch of Facebook, you must remember that on the Facebook platform, you are participating in a bid with all other advertisers at once, which means that at any time, there are hundreds of advertisers and you Compete for users on Facebook. Therefore, formulating a good bidding strategy can make you more competitive and make full use of your advertising budget. The following five aspects should be considered when formulating a reasonable advertising bidding strategy:
➡️Choose the right time to choose the bid
The month of the year, the day of the week and even certain times of the day can affect the advertising costs. At peak times, when the competition is at its highest, costs will rise.
➡️ Formulate your bidding plan and strategy
Whether you choose the lowest cost or choose a specific bid cap, you can ultimately determine your ad serving and cost, for which you need to make a detailed plan.
➡️Choose the right ad slot bid
Different ad placements incur different costs-the the more intense the competition for a placement, the higher the cost.
➡️Key indicators
Facebook has 3 independent indicators to determine the quality of your ads-engagement ranking, quality ranking, and conversion ranking. A low score in any of these areas will increase your cost.
➡️ Cost changes at different times in various countries
Timely understanding of the changes in Facebook advertising costs in each region can be used as one of the reference criteria for choosing the timing of bidding.
Monitor Facebook's Average Advertising Costs
We all know that different regions will affect advertising costs because of local economic level, cultural customs, etc., and users of different ages will also affect advertising costs. Especially for an advertising analyst, monitoring the changes in advertising costs on Facebook can save the company a lot of advertising costs and avoid greater economic losses at a critical time.
To monitor changes in Facebook advertising costs, ADCostly is your first choice. It collects the average advertising cost changes in different regions and time periods. It mainly analyzes the cost changes from four charging models of CPC, CPM, CTR, and CPA.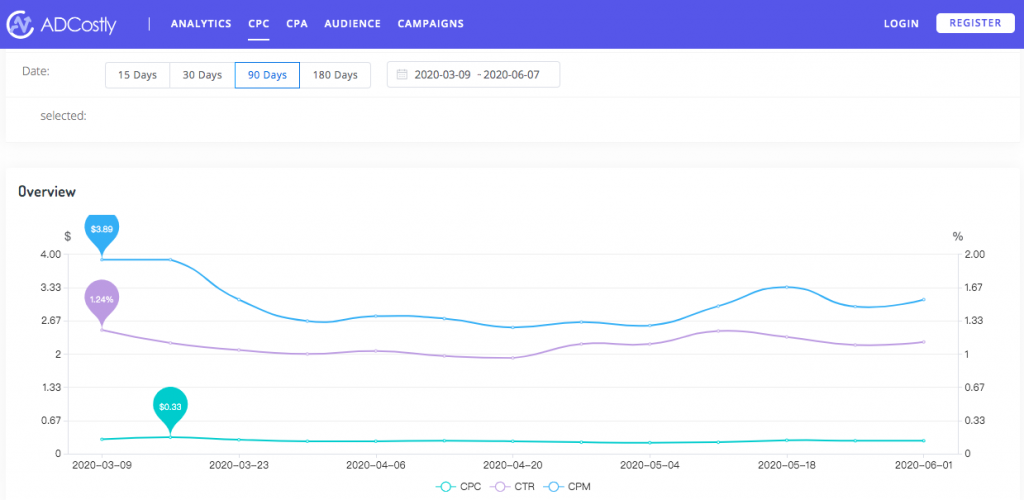 Of course, if you want to fully investigate the changes in Facebook costs, I suggest that you mainly analyze the changes in Facebook advertising costs from the three dimensions of the region, gender, and age. Specifically, you can analyze the following three charging standards.
CPC average advertising cost change
CPA average advertising cost change
CPM average advertising cost change
A/B Testing To determine Best Ad campaigns
Perhaps many ad traffickers think A/B testing is a very unrealistic process, but I still need to remind you that it is a very worthwhile thing to do unless you can guarantee that your ads will definitely get a lot of Orders.
Usually, in your ad group campaigns, you must prepare at least three ads for the same idea, and at least three or more ideas at the same time. The first bid on a small scale, test different campaign combinations, and limit the delivery time. After a period of data observation and analysis, the best ad group series is selected as an ad combination for a large number of ads.
Finally, please keep your ads simple and focus on creating high-quality ads, so that your advertising audience can quickly understand your products and business, so you need to spend more time thinking about how to attract your advertising audience users, combined with tools Understand cost changes, seize favorable opportunities to bid, and maximize advertising effectiveness.