Facebook Ads Cost In Brazil
The average CPM in Brazil is about $1.13; the average CPC is about $0.08; the average CTR is about 1.43%. When it comes to the Facebook advertising, Brazil is leading entire Latin America. One of the largest ad markets in the world, Facebook advertising is one of the most promising sectors in the region.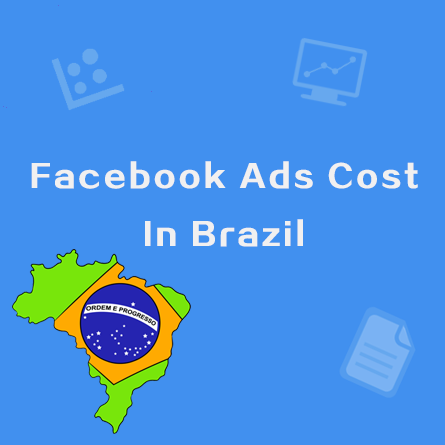 How much does Facebook ads cost in Brazil?
| | | | |
| --- | --- | --- | --- |
| Facebook ads cost | CPM | CPC | CTR |
| Facebook News Feed | $1.08 | $0.09 | 1.26% |
| Instagram | $1.02 | $0.15 | 0.15% |
| Audience Network | $1.78 | $0.04 | 4.36% |
| Messenger | $0.57 | $0.11 | 0.52% |
One of the most important data you should know about Facebook in Brazil is that 90% of Brazilian internet users are there, according to a Forbes article. This means that 127 million users in the country visit Facebook every day. Therefore, it is very wise to advertise on Facebook in Brazil. According to the above cost benchmarks in Brazil, we learned that Facebook News Feed has low advertising costs, with a CPM of about $1.08 and a CPC of about $0.09, but the click-through rate reached 1.26%. This is very good advertising information.
Of course, Audience Network's average click-through rate is higher, even reaching 4.36%, which is exciting. But compared to Facebook News Feed, the cost of CPC and CPM has increased. While the click-through rate is obtained, the cost has increased slightly. This is reasonable. The CPM cost of Instagram is at a moderate level, and the CPC cost is low, but the average click-through rate is very low. This is an unreasonable choice and you need to consider it carefully.
Trends for Facebook Advertising Costs in Brazil
---
Learn about Brazil with Facebook Ads Cost Insight.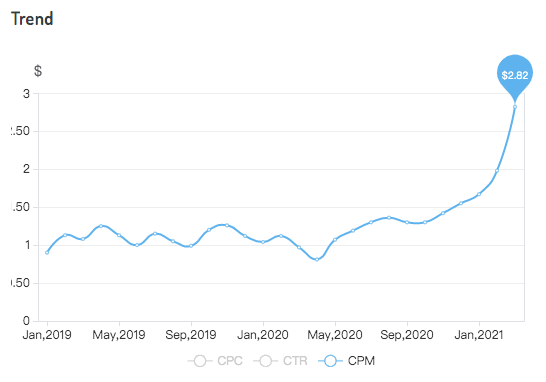 CPM
Grow Significantly after May 2020
Before May 2020, the CPM in Brazil changed steadily, with an overall fluctuation of approximately $1.2. After May 2020, the CPM began to rise rapidly. The data continued to rise after May, reaching the highest point in 2021, about 2.82 US dollars. The average CPM in Brazil has shown an increasing trend.
CPC
Low CPC Also Requires Budget Management.
The clicks on Facebook in Brazil are very cheap. The click is much less than $1, and it hasn't even exceeded $0.5 in 3 years. It's this low CPC price that shows that Brazil has the largest audience, so even with low CPCs like this, it's important to understand how to manage your budget. This way your Facebook costs can function properly.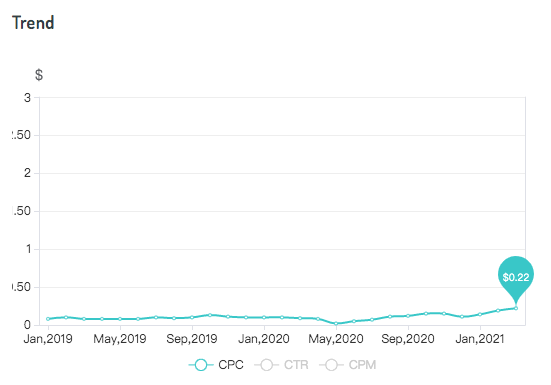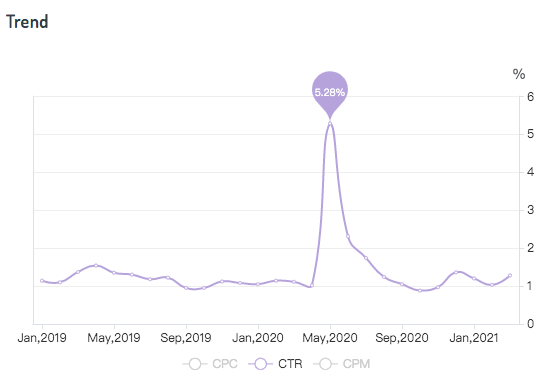 CTR
The 5.28% CTR is Amazing.
Legitimate advertisers may struggle to get a lower click-through rate on the SERP, but they are lucky to get the highest click-through rate (5.28%) on Facebook in Brazil. Although this is only a surge in data, the average CTR of 1.43% is already exciting.
CPA
Cost Per Install of $0.61 is Excellent
Cost per install is $0.61, and almost all advertisers agree. Choosing a relatively young audience on Facebook is a wise decision. However, Cost per purchase has ups and downs, reaching a maximum of $47.85. Of course, the lifetime value of new customers acquired through this method is very high, and in the end it is all worthwhile.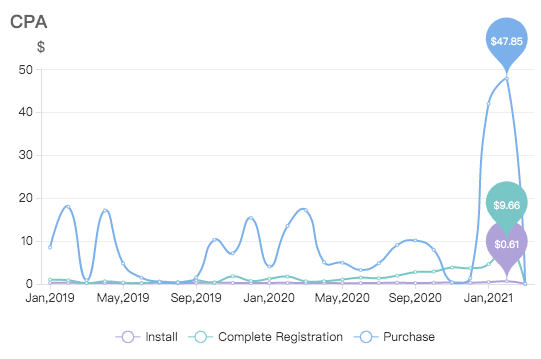 Cost Reports For Other Countries