Facebook Ads Cost In Turkey
The average CPM in Turkey is about $0.89; the average CPC is about $0.10; the average CTR is about 0.88%. According to an in-depth study of ADCostly, these numbers are just averages. Due to a variety of factors, such as ad placement, target market, industry, etc., your company may see an increase or decrease in Facebook advertising costs. But the Facebook ads cost benchmarks provided by ADCostly allow you to better plan your advertising budget in Turkey.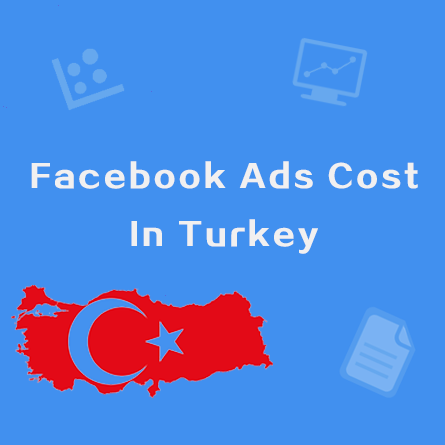 How much does Facebook ads cost in Turkey?
| | | | |
| --- | --- | --- | --- |
| Facebook ads cost | CPM | CPC | CTR |
| Facebook News Feed | $0.93 | $0.10 | 0.92% |
| Instagram | $0.93 | $0.14 | 0.14% |
| Audience Network | $0.79 | $0.07 | 1.10% |
| Messenger | $0.50 | $0.10 | 0.53% |
Turkey is one of the important countries for Internet advertising. From the advertising cost benchmark provided by ADCostly, we can get some interesting things. CPC bidding is a common method used by advertisers. The average CPC in Turkey is no more than $0.2, and the cost of each publisher is close. Messenger is the preferred bidding method for CPM, which is cheaper overall. However, the average CPM of all publishers did not exceed $0.1. Audience Network is more outstanding, the average CTR exceeds 1%. The most disappointing thing is that Instagram's average CTR is too low, only 0.14%.
Advertising on Instagram makes it difficult for advertisers to find engagement. Its cost is generally high, and its click-through rate is relatively low, even not half of other advertising publishers. Audience Network will be a good choice for placing Facebook ads in Turkey.
Trends for Facebook Advertising Costs in Turkey
---
Learn about Turkey with Facebook Ads Cost Insight.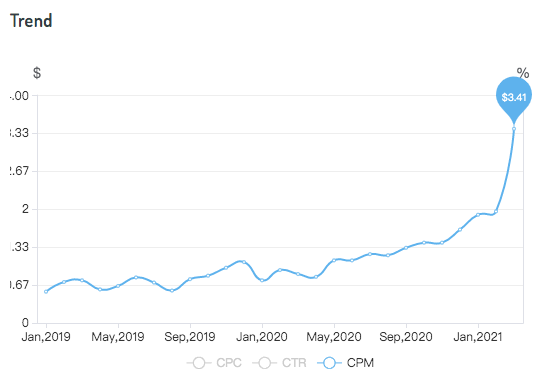 CPM
CPM Has Increased to $3.41
Before May 2020, the CPM in Turkey has small ups and downs. It has been fluctuating around $1. After May 2020, Turkey's average CPM increased rapidly, reaching $2 in early 2021, and began to increase more rapidly. On the end of March 2021, Turkey's average CTR reached the highest value, about $3.41.
CPC
CPC in Turkey Never Exceeded $0.5
Just like on Google, CPC is also an important indicator for advertising on Facebook. The average CPC in Turkey has never exceeded $0.5, and the average CPC is about $0.15. The cost of placing Facebook ads in Turkey has always been lower. Of course, there will be gaps in different industries. More CPC industry data can be queried using ADCostly.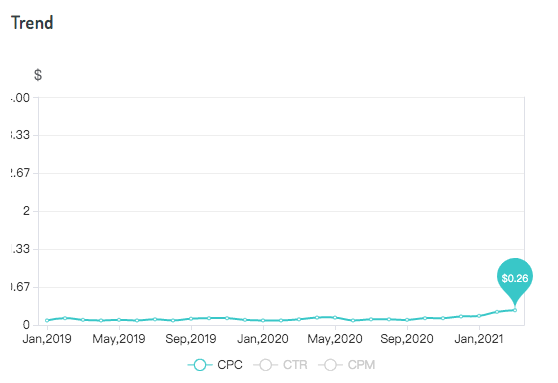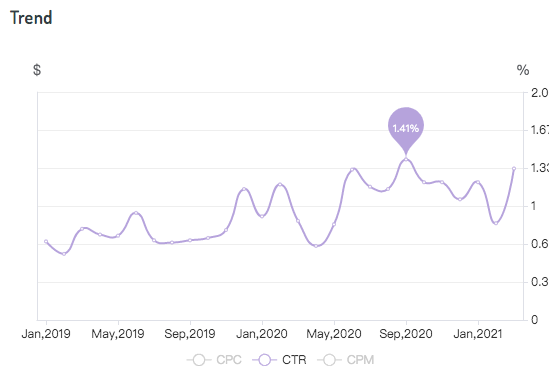 CTR
CTR of 1.41% is A Good Signal
Turkey's clicks on Facebook are cheap, but the click-through rate is very high. Turkey's average click cost is less than $0.5, but the click-through rate exceeds 1%. This clearly illustrates the value of focusing on creating high-click-through rate ads and its impact on cost reduction. The average click-through rate reached 1.41% in August 2020, which is a very good signal.
CPA
CPA of Complete Registration at A Relatively High Cost Level
In Turkey, the cost per install is about $0.6, and the cost of activate app is about $0.05. These are all very cheap expenses, you can spend very little money to get very high income. Compared with this, the higher cost is complete registration. After 2020, the CPA increased more, and the highest peak is $6.02. Although it has declined, it is still at a relatively high cost level.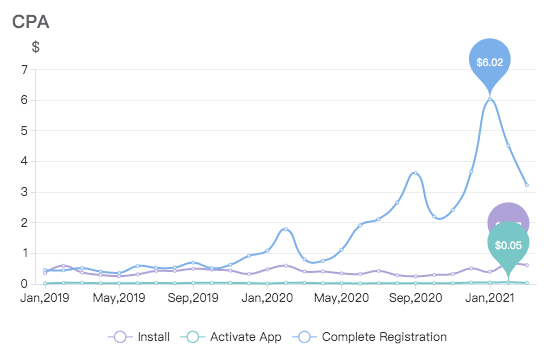 Cost Reports For Other Countries