How To Make The Best Food Ad?
Food is the most common product in our lives, just like the proverb "Food is the heaven for the people". You can also see large and small food advertisements in life. Such as Dove Chocolate, Coca-Cola and so on. So what kind of food advertisement can attract users enough? How should you place food ads on Facebook? In this article, you will get food cases and budget tips for food advertising.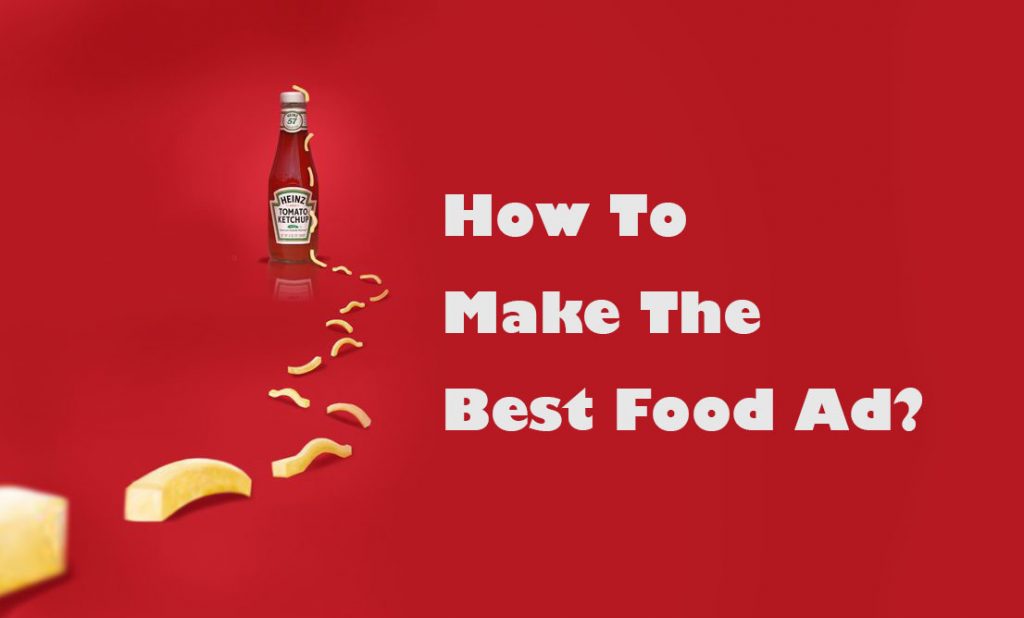 Food advertising creative
Beautiful pictures are the best way to display food ads. You must ensure that your advertisement contains the most beautiful picture of your food. This picture must be attractive enough to make people want to eat after seeing it. Food advertisements queried by BigSpy have such excellent cases.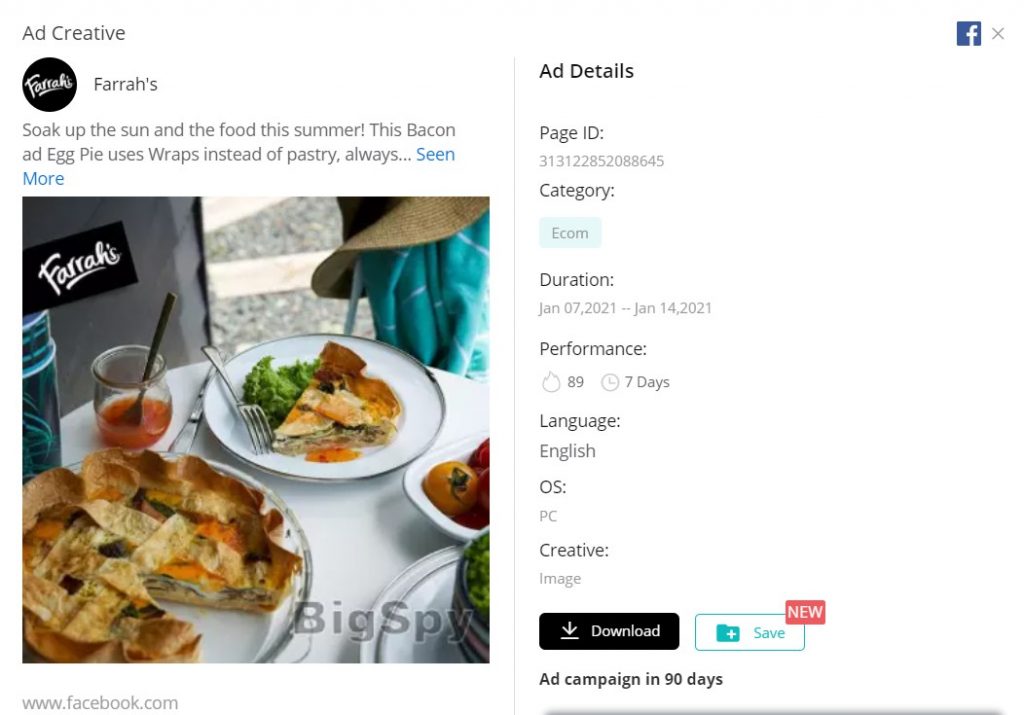 "Soak up the sun and the food this summer! This Bacon ad Egg Pie uses Wraps instead of pastry, always a crowd pleaser!" I have to say, I don't even need to read the ad copy, just food pictures have made me addicted. This shows that when you are preparing food advertising materials, you must look for a good photographer who can make your food shine.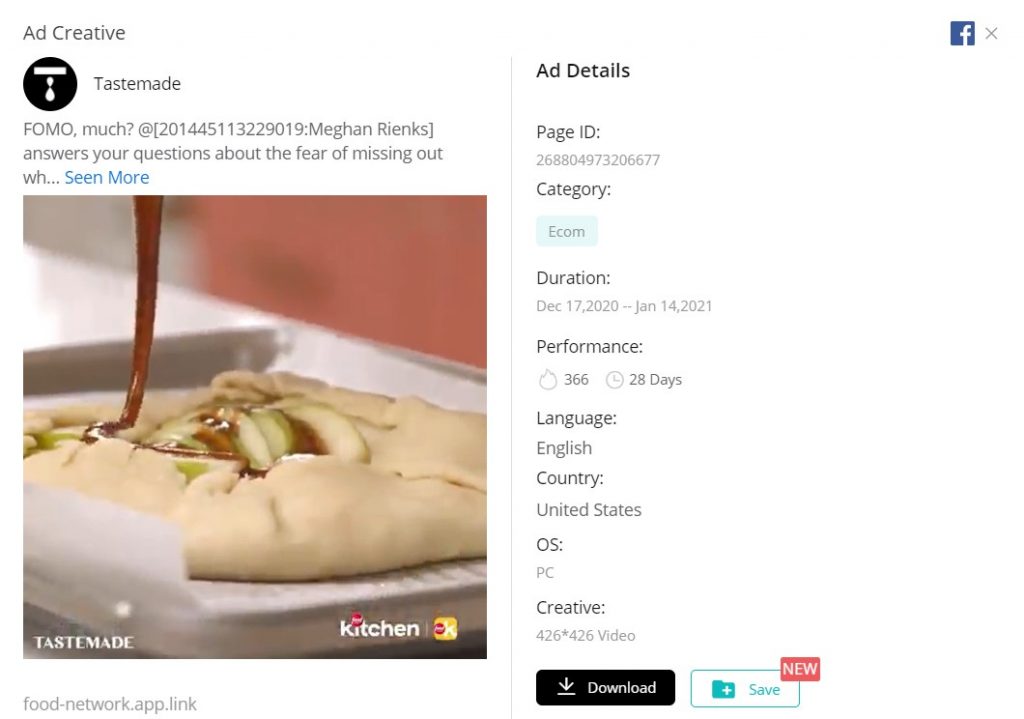 Maybe you can shoot a video to record the food production process, or use a plated advertisement to show the charm of your food. Tastemade's advertisement is more like a conversation between an anchor and you. The advertisement presents some processes of food production, and the food is displayed more beautifully through shooting techniques. This is a very good sales method.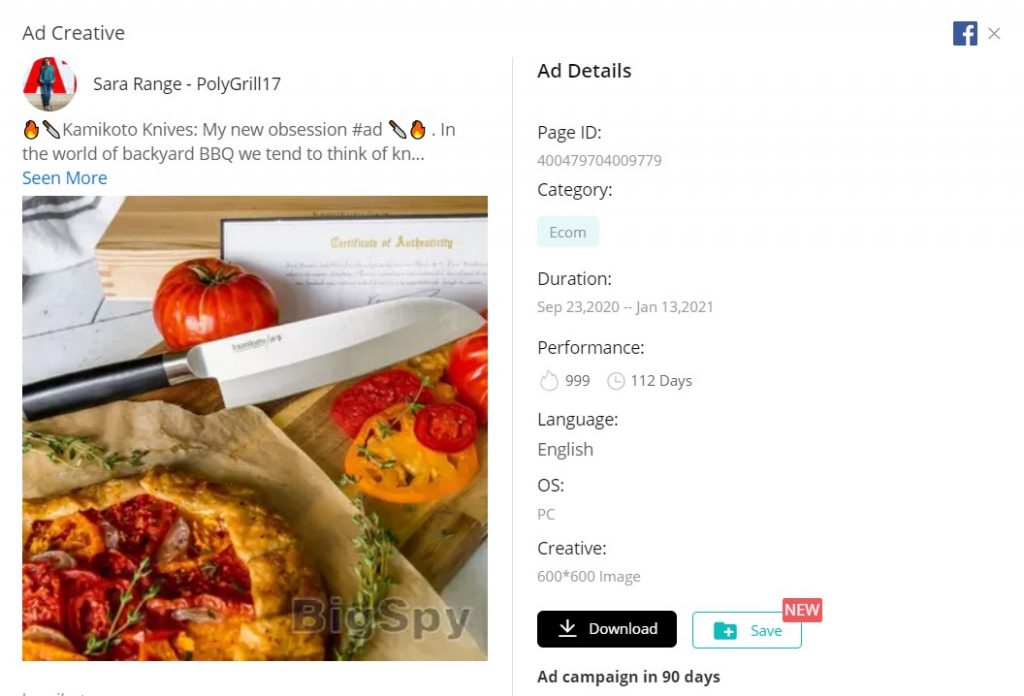 It is worth noting that your food advertisement must be clean and hygienic. As an advertisement, you must ensure that the screen is tidy, even if you make the kitchen messy every time you cook. Sara Range's advertisement is very good. The knives it displays are very neat, which is very comfortable. Cleanliness has always been an issue that people pay special attention to.
Food advertising costs
The two common ways of advertising bidding include CPC bidding and CPM bidding, which correspond to two data indicators. Checking the price of food ads through ADCostly can better organize the advertising budget.
Querying "Food" in ADCostly, we can see that the interest in food on Facebook has a 1.42B audience, and its average CPM is $11.94, and the CPC price is $1.16. Next, we look at the data situation of different countries. Sorted by the number of audiences, the United States pays the most attention to food, followed by India. However, the CPM of these two countries is very different. Among the top five countries, India has the lowest CPM at only $2.81, and the United States has the highest CPM price at $30.87. The country with the lowest CPC is the United Kingdom at $0.17, and Malaysia's CPC ranks second at $0.18.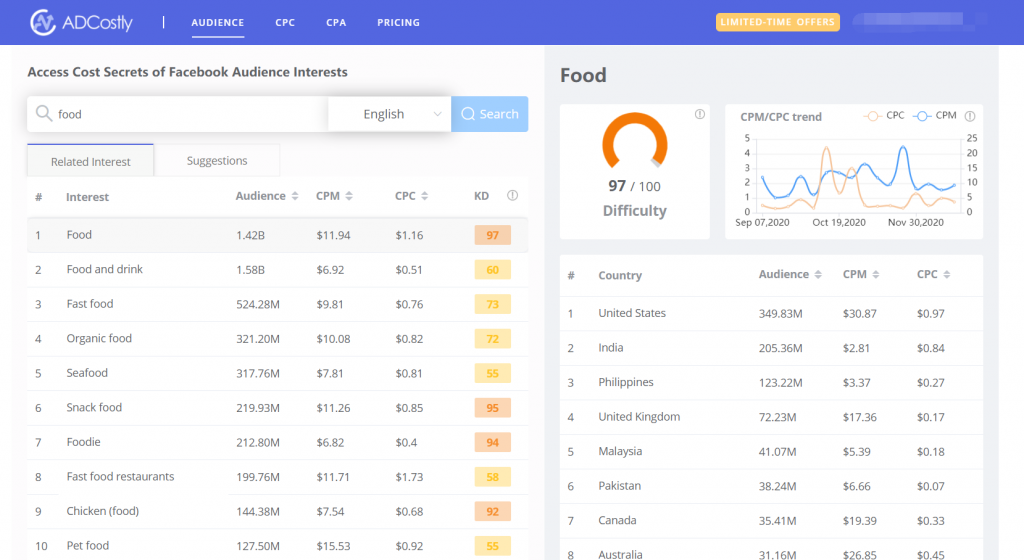 So, if you need to advertise food, the best advice is India and Philippines. The CPC and CPM of these two countries are generally low, and they have a large enough audience. Of course, we can use CPC bidding method in Malaysia, and the overall advertising costs will be cheaper. The United States is indeed the main focus of food advertising, but the overall cost is higher, and their requirements for food will also be higher. You need to ensure that your advertising is good enough and that the food is healthy.
Food advertising audience
In addition to the countries analyzed above, when launching on Facebook, we also need to select interests and user conditions. At this time, user portraits should be considered, and we should have a deeper understanding of food advertising users. The main characteristics of users can be searched through AdTargeting. The following are the search results of food advertisements.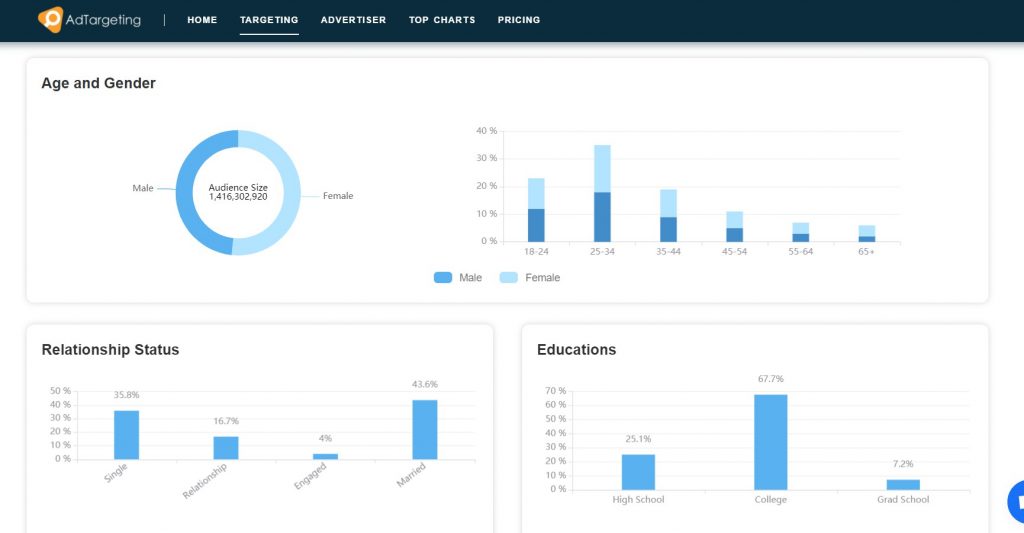 From the search results of AdTargeting, we can know that the main audience of food ads is the young and middle-aged people aged 18-44, and the proportion of girls will be more. At the same time, among all the population, single and married population accounted for the main part, about 79.4%. The report also shows that people with university degrees pay more attention to food.
If your audience's interests still don't have more novel vocabulary, you can refer to the following interests, audience, age, and gender ratio given by AdTargeting.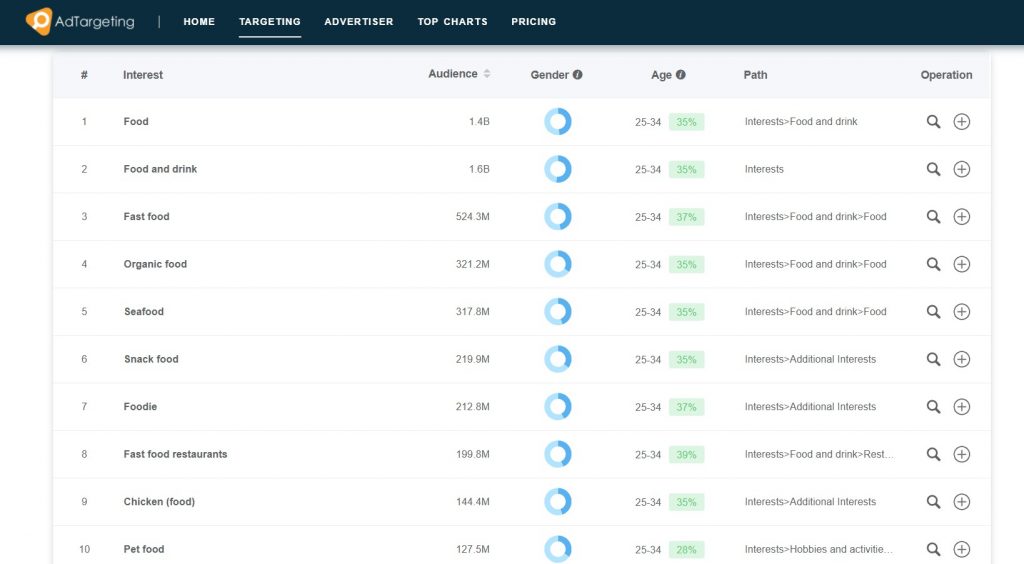 Summary
Food advertising has great market value. Pay attention to the two issues mentioned above, ensure the quality of advertising, and choose the best advertising strategy. Hope you can make better food advertisements.