5 best Facebook ad tools to increase your advertising ROI in 2020
Facebook is a great platform and currently has 2 billion users. Nowadays, more and more advertisers choose to use Facebook ads to attract users to visit websites or buy products. Do you know? Having a good Facebook advertising marketing tool can improve your advertising ROI. What value can we have with such a Facebook advertising tool?
Save advertising budget: By using Facebook's cost analysis tool, rationally arrange advertising bids.
Save time: Use Facebook ad creative tools to view your competitive ad creatives, you don't have to spend a lot of time thinking about ad creatives by yourself.
Improve advertising ROI: By viewing excellent landing page tools, design landing page ideas with higher conversion rates.
Get accurate users: Use the Facebook interest words tool to expand more interest words, find accurate user groups with common interests, and increase your advertising conversion rate.
Improve work efficiency: Facebook's official tools are great.
Ok, let's not waste time, start to introduce these 5 best Facebook advertising tools!
Facebook Ad Tool # 1:ADCostly
When you were bidding for Facebook ads, did you ever think that if there is a Facebook ad cost analysis tool to help me estimate the unit price of the next ad, can I use the ad budget more reasonably? Yes, ADCostly is such a tool. What can it do for me?
View the trend of the changes of average CPC cost and the change of CTR
View the average cost change trend of CPM
View the average cost change trend of CPA
Different audiences, the impact on advertising costs
Before you bid, you can only place ads at the best time if you fully understand the changes in advertising costs in different periods. For example, I checked the trend graph of Facebook's advertising costs in the United States in the last 90 days.
The average CPC cost of gaming apps is up to 2.75$, and the conversion rate is up to 2.57% (according to Facebook authority statistics, the average click-through rate of Facebook ads is 9%), and the average CPC is up to 22.66$.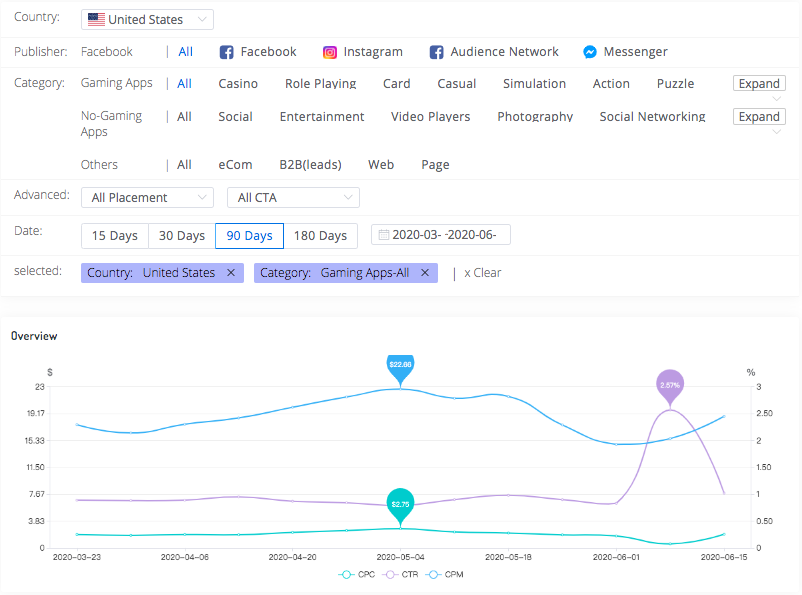 Next, let's take a look at the average cost of the average CPA. Let's take a look at the changes in the United States in the past 90 days. Among them, the average cost of the game application installation CPI reached a maximum of 2.51$.

For game application users, the average CPI cost of female users is significantly higher than the CPI cost of male users, and as female users grow older, the CPI cost will be higher and higher, while the age of male users is 25~34 The average CPI cost between years will be the highest.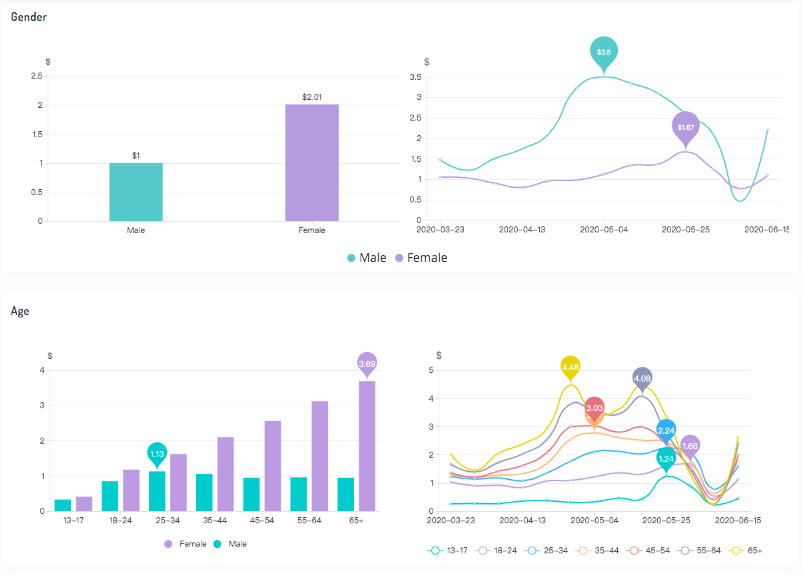 This is a completely free Facebook advertising cost analysis tool, you do not need to consider the cost.
Facebook Ad Tool # 2:BigSpy
When you need to design a lot of advertising ideas, you will feel very distressed, because relying on your mind alone is not enough to think about so much inspiration, and even if you think about a lot of advertising ideas, the effect of this ad is not necessarily very good Baton. I express that I understand your situation very well, don't worry, BigSpy is a tool that can help you solve your problems, it can help you do:
Advertising creative material monitoring: View the advertising creative materials on large social platforms, such as Facebook, YouTobe, Instagram, Admob, Twitter, etc.
Advertising Creative Text: Shows more popular advertising text to help you develop more creative advertising copywriting.
Top Chars: Analyzed the best creative ideas and ranked the ads.
Facebook Ad Tracked: Shows the most popular advertising ideas on Facebook.
If you lack creativity and do not want to waste time thinking about new ideas, then using Bigspy is your best choice, it can help you save time and improve work efficiency. Because it currently has a free part, you can see a lot of advertising ideas without spending money, for example, I saw this kind of advertising idea on the first page, likes 7.1K, the number of comments 399, forward 35 times, Has been running for 11 days.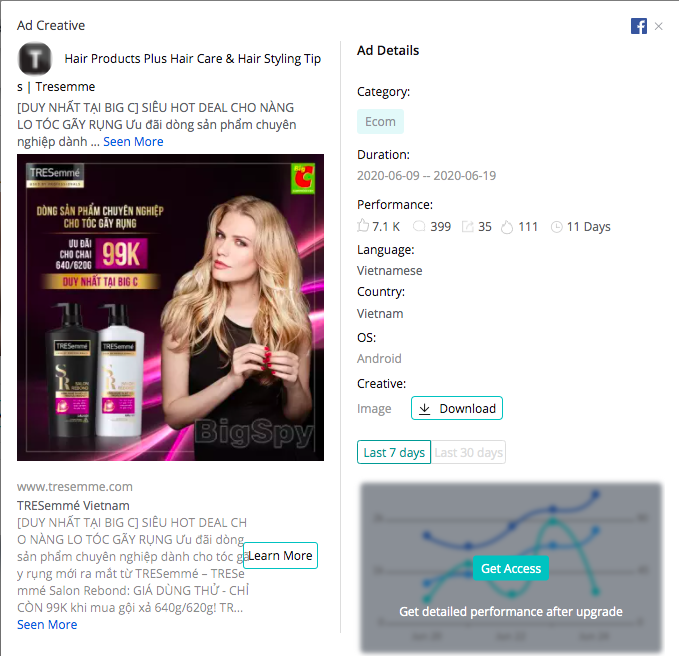 Take a look at the most effective Ad Text on Facebook. The top 1 Ad Text has 5599 ads, 4.8k interactions, 206 comments, and 153.9k shared on Facebook.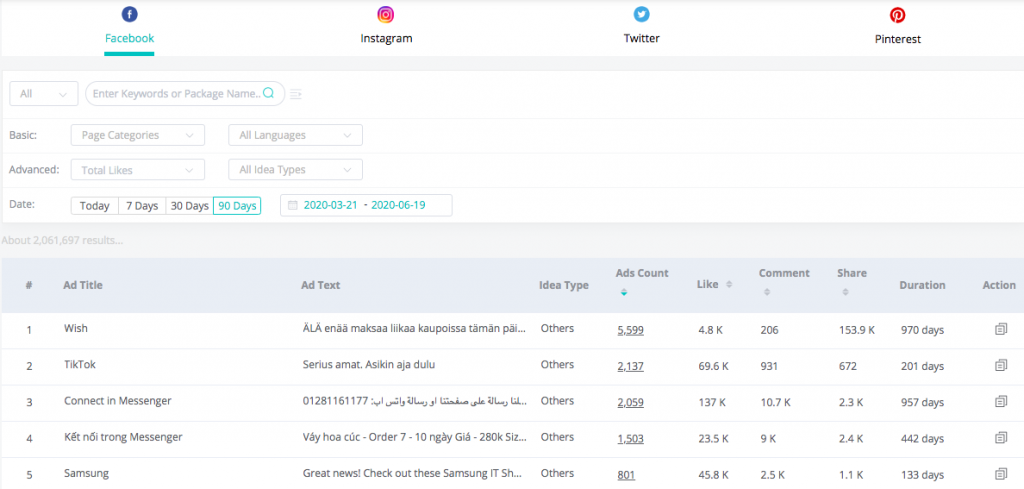 There are two other great features, here are not one by one example, you can just register the experience.
This is a part of the function that is free and open to meet the needs of individual free entrepreneurs, the core function is charged, suitable for SME advertisers.
Facebook Ad Tool # 3:LandingSpy
The landing page is a very important part of the advertising process. At the end of an advertising cycle, the landing page is the last link. He determines whether the user continues to download or purchase products. If your ad conversion rate has not been high, let You are very frustrated. At this time, you should actively take action to optimize your landing page design. Before optimization, you can use LandingSpy to first look at the landing page with the best conversion rate:
For example, I checked the data of the first 4 landing pages in the default order. The first landing page was posted for 5 days. Related pages: 31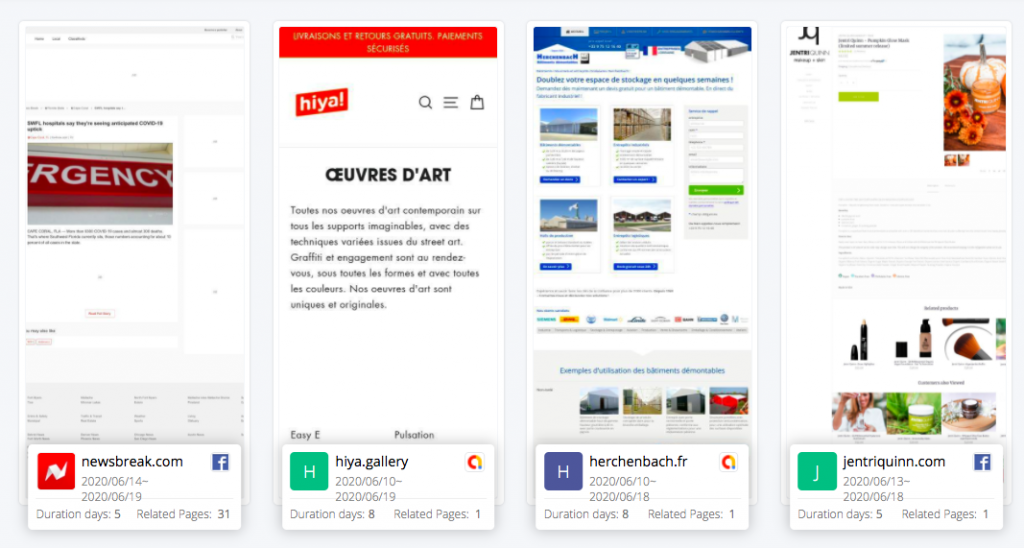 If you want to check the detailed design of the landing page, just check the detail page. A very simple and easy to use creative query tool for landing pages.
This is a completely free landing page query tool. I found it by accident. Try it now!
Facebook Ad Tool # 4:Adtargeting
If the previous three tools are to solve the problem before advertising, then this tool is to solve the problem in the delivery process for you. When you launch Facebook, Facebook will let you choose the interest words of the audience users, then the interest words Adtargeting is your first choice. It can provide me with:
Target Your Audience: Directly by entering your audience's core keywords, Adtargeting will give you the most popular related interest words.
A quick insight into Facebook or Google interest words, divided into shopping and fashion, entertainment, and online business.
Use interest words to view user audience analysis behind interest words.
Automatically detect interest words to help you recommend the most ideal interest words
Search still occupies a huge amount of traffic today, the purpose of users can be different, but the user's interest words can be classified so that a large number of users exist within a range, find this interest keyword, let Facebook use interest words to Advertisements are pushed to users so that your users are very accurate. For example, I searched for the interest word "music".
Among the top 5 interest words, there are 325,222,080 audience users for the interest word "music industry".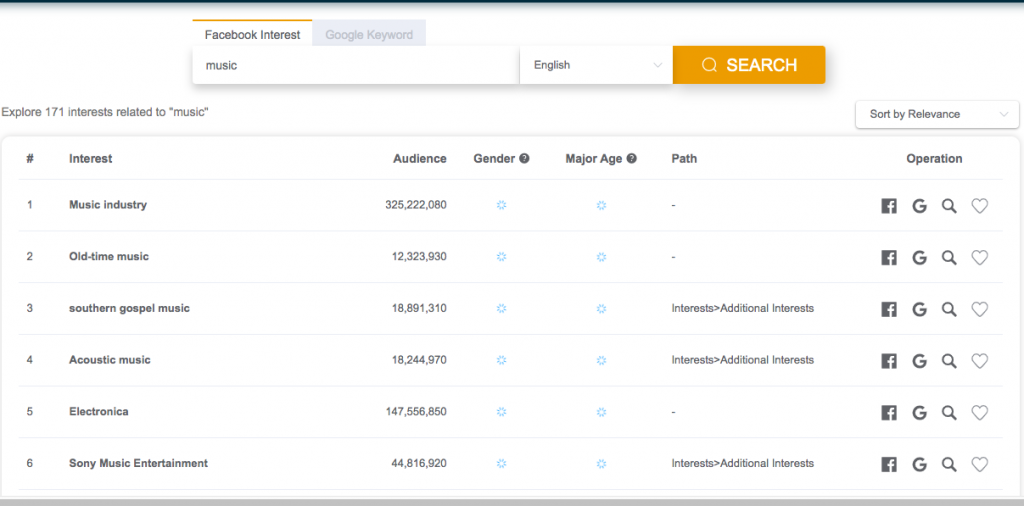 If you want to distinguish different interest words by industry, choose the interest words you want to see directly in these three major industries. If not, you can still search directly in the search box, as follows: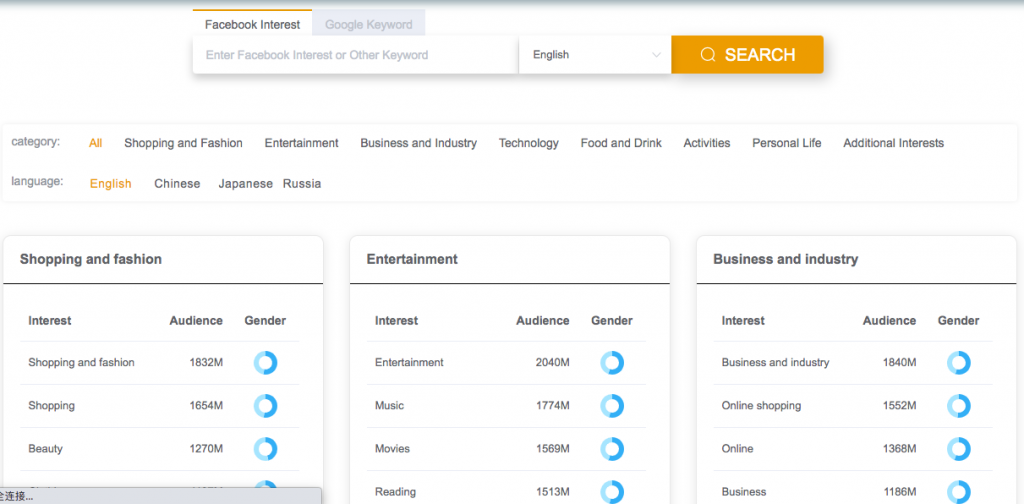 If you absolutely don't know which interest word to choose is better, it doesn't matter, you can use the comparison function directly to compare the detailed data comparison chart of these two interest words. For example, I compared "music" and "football":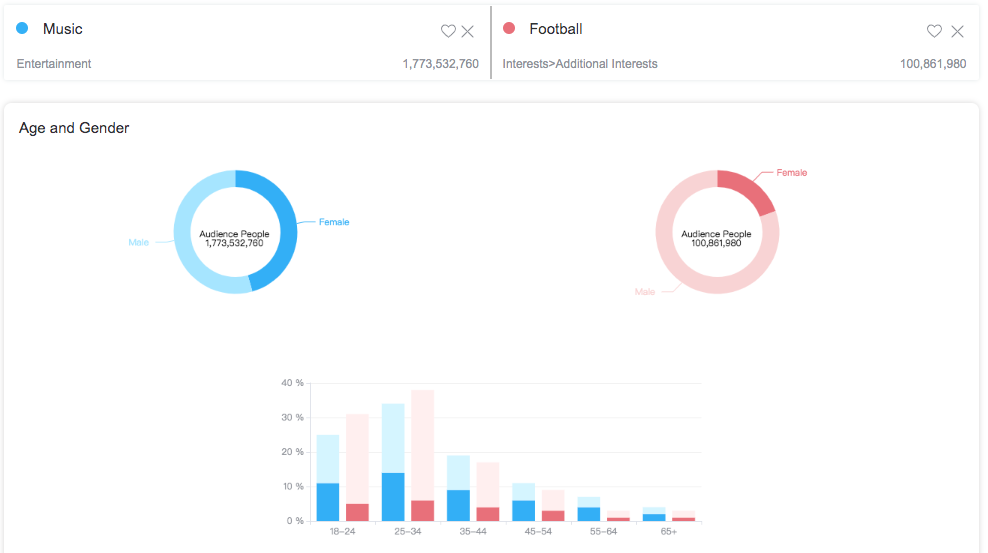 Are you very excited, this tool is amazing?
This is also a completely free tool, mainly tailored for Facebook advertising agencies, mainly to help you find accurate users, quickly use it!
Facebook Ad Tool # 5: Facebook Ads Manager
This is Facebook's official ad manager, I believe many friends are very familiar with it. Facebook Ads Manager is versatile and can provide a lot of information, including the performance of a particular campaign over time (depending on the goal), a summary of the campaign itself (including the total expenditure for a given day and campaign goals), and some other At a glance in the Ads Manager's information center.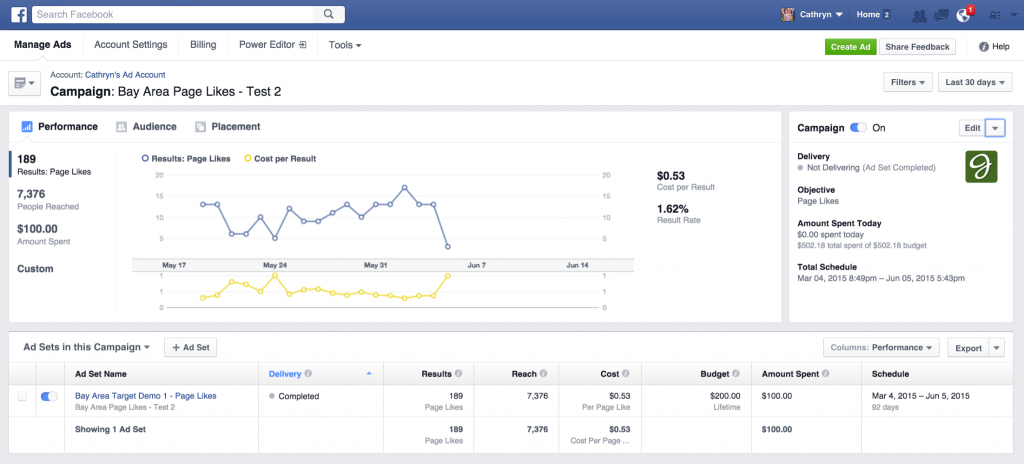 A completely free advertising manager.
The above five tools are to solve the five problems encountered in the advertising process: lack of advertising creativity, BigSpy helps you solve them. If you encounter the problem of landing page, LandingSpy can help you solve it. In the case of cost problems, ADCostly will help you solve it. When encountering interest words from advertising audiences, Adtargeting can help you solve them. When you read this, act quickly!