B2B facebook ads analysis guidance and how to acquire potential customers
Facebook is often thought of as a platform for B2C, but in fact, the B2B brand can use Facebook to locate almost any imaginable role, such as an ad optimist, corporate executive, or software programmer. They tend to look up B2B tools on Facebook when designing products or doing product research, and these tools make it easier for them to do so. So B2B advertising continues to have a huge market in social media and other platforms.
B2B Facebook Ad Status
According to the 2018 Social Media Marketing Industry Report, 91% of B2B marketers use Facebook, with 67% saying that Facebook is the most important social media platform for potential customers. At the same time, LinkedIn and Twitter also include a large number of social media users. Instagram and YouTube occupy a central place in the overall rankings, but they still play a significant role in the B2B marketing process, especially in the tutorials.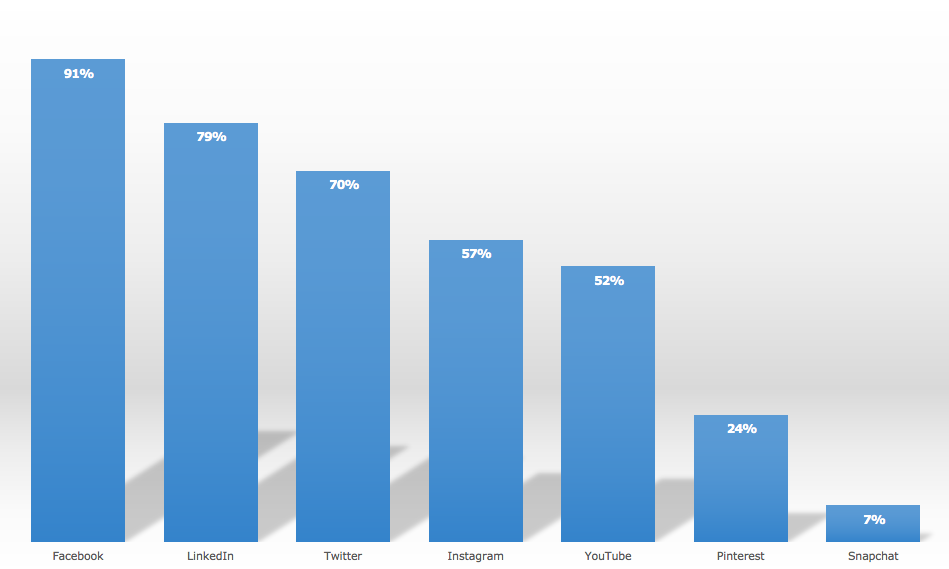 By the middle of 2020, Facebook launched the Shops feature and began working with shopify to aggressively attack the e-commerce space. Even under pressure from high-profile brands such as Covid-19 and Coca- Cola to drop ad campaigns, Facebook has grown its advertising business in Q2. Therefore, B2B advertising on Facebook will be of great value.
B2B Facebook Ad Cost Status
B2B Advertising has not changed much between May and August 2020, with the CPC remaining between $0.05 and $0.23. CTR fell first and then rose. It peaked at 3.52% in early June and was no less than 2%. CPM is trending up first and then down, with CPM prices peaking at $5.25 on July 20.
Regarding the CPA data of B2B advertising, here we only view Lead, Product view and Conversion (offsite). More data can be viewed on the CPA page of ADCostly. Lead's CPA has been increasing between May and July 2020, and there was a slight downward trend in early August. The CPA data of Product view is on an upward trend as a whole, but the data has changed a lot, and there have been two big changes that first rose and then fell. The CPA of Conversion (offsite) is very stable, with almost no major changes.
B2B Facebook Ads Method To Acquire Potential Customers
Relevant Facebook Groups Get Customers
As mentioned above, Facebook is still the most used social media by B2B users. A large number of customers can be obtained in Facebook. The quick way to acquire effective users of Facebook is to acquire customers in relevant active groups. Highly active groups contain a large number of effective users. We can communicate with the group's administrators and pay for product promotion. If there are not many restrictions on advertising in the group, and you are free to post, then it is better to write a few useful blogs and forward them to such a group, and your product will get more attention. This will be the fastest way to get customers.
High-Quality Video Captures Customers
Video is a kind of dynamic image, it can bring customers the most convenient tutorial. Videos can be marketed on YouTube and can also be uploaded on social media such as Facebook and Twitter. Video helps customers understand the text, so we can upload our video to Quora, which would be a good idea.
Excellent Campaigns To Gain Customers
A successful product cannot cost a penny, and a large amount of advertising costs must be spent before it is successfully recognized by the market. Create a great campaign for your product. You can put on Facebook, Google and Quora, which will play a very important role in acquiring customers.
Searching for WordStream on AdLibrary Helper, we can see that WordStream has also placed 23 advertisements recently and got 73,787 likes. WordStream is a pivotal marketing tool in marketing. With such a mature tool, it is still running advertising campaigns. why? Because the number of audience groups is certain, when customers become fans of your competitors, your audience groups will decrease, and the money you can earn will decrease. A good campaign is to plan for the future and get more customers.
Summary
B2B Facebook advertising has a very large market prospect, and the overall cost has not changed much. If you make a reasonable advertising campaign, your customers will become more. If you need more B2B related advertising data, you can check on ADCostly, and look forward to you having a good experience.