2020 Q2 Facebook ad benchmarks for different countries/areas
Advertising benchmarks are often related to countries/areas. The same amount of advertising in different countries/areas will make different budgets. These are often related to the area/country's economy and Internet conditions. Different countries/areas have different CPC, CPM, CTR and CPA data, so the resulting advertising costs are also different.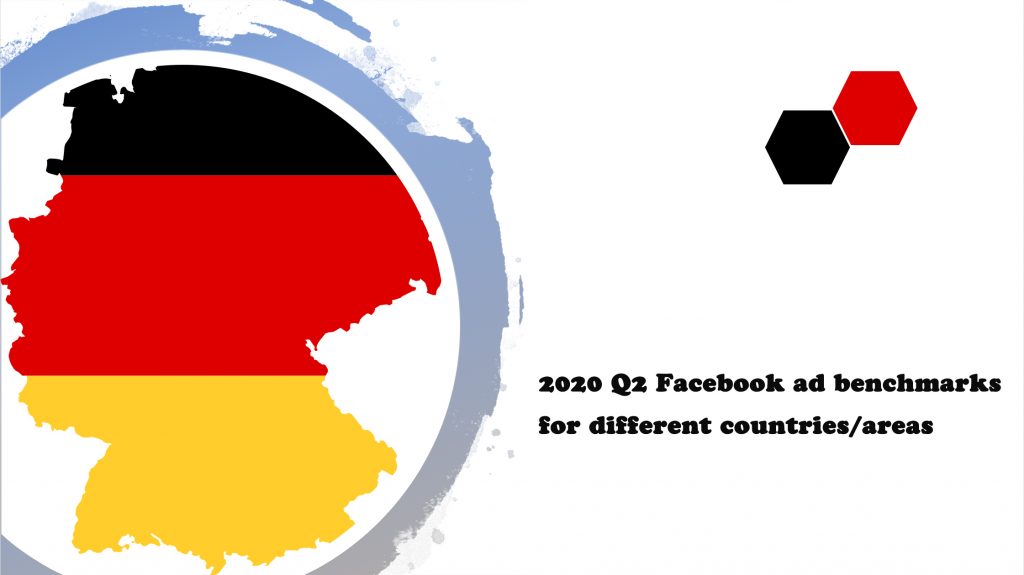 For example, the cost of placing the same advertisement in the United States will be several times higher than that in India, and the conversion rate of the same advertisement will also be different. What advertisers need to do is to weigh the audience, advertising budget, and conversion rate among all countries/areas to select the best quality country/areas for advertising. Ensure the maximization of advertising efficiency.
ADCostly exhibited the 2020 Q2 Facebook advertising benchmark report on the impact of countries/areas on advertising costs. There are 25 countries/areas participating in the ranking. These countries/areas are popular countries/areas that advertisers pay attention to. Let's take a look.
Average CPC in Q2 for different countries/areas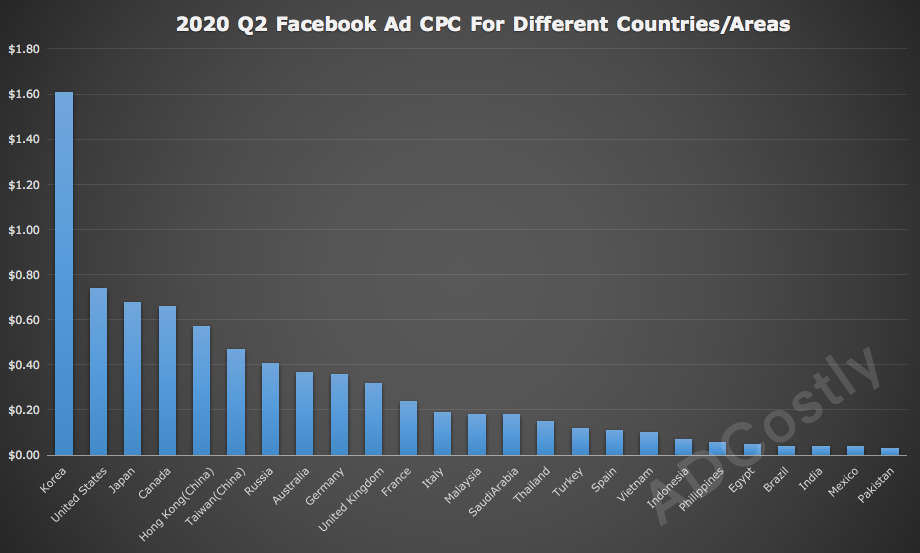 In Q2 of 2020, according to CPC prices in descending order, the top five countries/regions are Korea, United States, Japan, Canada, and Hong Kong. Korea has become the country/area with the highest CPC, and the price of $1.63 is much higher than other countries/areas. The lower-ranking countries/areas have an average CPC between $0.01 and $0.2, such as India, Egypt, Mexico, etc.
Average CPM in Q2 for different countries/areas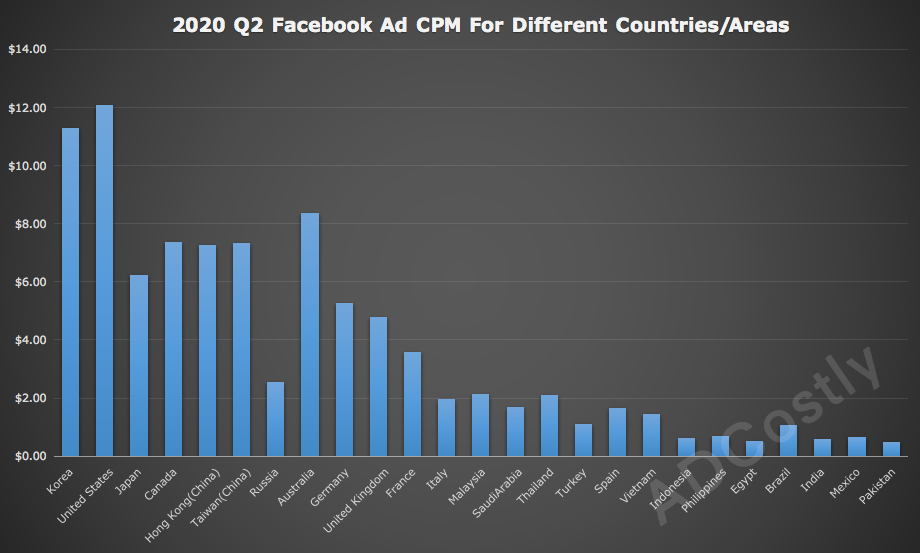 In descending order of CPM prices, the top five countries/areas are the United States, Korea, Australia, Taiwan, and Canada. The average CPM in the United States is $12.08 and the average CPM in Canada is $7.36. The CPM price gap in the top five countries/areas exceeds $4. Countries/areas with low CPM include Pakistan, Egypt, India and Indonesia.
Average CTR in Q2 for different countries/areas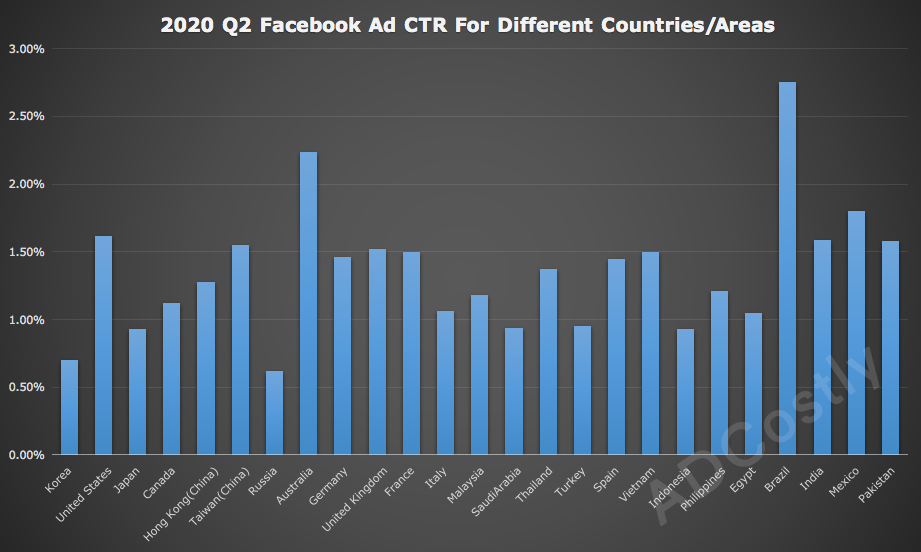 The gap between CTR in different countries/areas is much smaller than that of CPC and CPM. The top five countries/areas are Brazil, Australia, Mexico, United States and India. Except for Brazil and Australia, which have a CTR exceeding 2%, other countries have not reached it. The country with the lowest CTR is Korea, with a CTR of 0.7%. Korea is a country with high CPC and CPM but low CTR. Advertisers should optimize advertising strategies when placing ads in Korea.
Average CPA in Q2 for different countries/areas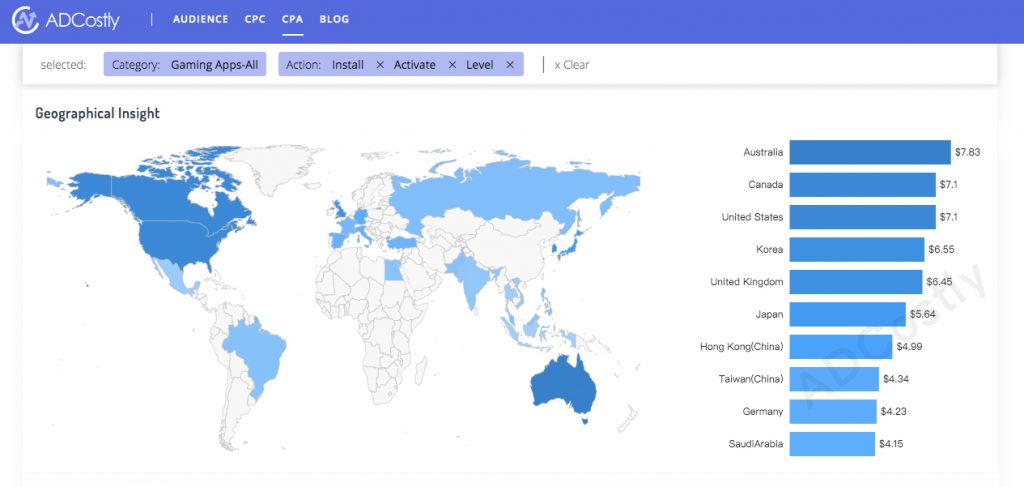 CPA includes many categories, here are the CPA of Install, Activate and Level in different countries/areas. The top five are Australia, Canada, United States, Korea and United Kingdom. Australia's CPA in Q2 2020 reached $7.83. Both Canada and the United States have a CPA of $7.1. More CPA data can be viewed on ADCostly's CPA page.
Summary
Advertisers should understand the advertising benchmarks before placing advertisements, and prefer countries/areas with high CTR. If the advertising budget is sufficient, you can choose excellent Internet countries, such as the United States and Canada. If the budget is insufficient, you can consider countries such as India and Egypt. The cost is low, but it has a large audience and can be advertised on a large scale.